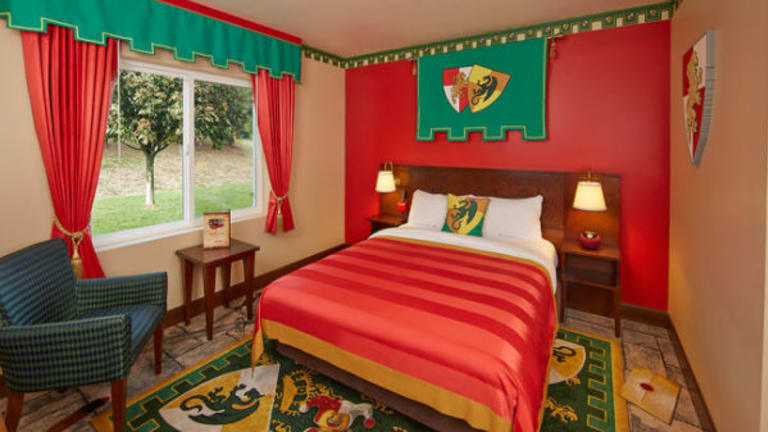 Publish date:
Travel News: LEGOLAND Florida Resort Reveals First LEGO Model Built for LEGOLAND Hotel
The first LEGO model has arrived at LEGOLAND Hotel at LEGOLAND Florida Resort.
The first LEGO model has arrived at LEGOLAND Hotel at LEGOLAND Florida Resort.
Standing three-feet tall and created out of 5,000 LEGO® bricks, the first LEGO model has arrived at LEGOLAND® Hotel at LEGOLAND® Florida Resort. In order to become the Hotel's first Model Citizen, this LEGO Bellhop traveled thousands of miles from California. 
Related: What to wear to Legoland
First LEGO Model Built for LEGOLAND Hotel
It took more than 40 hours to build him brick by brick by Master Model Builder Alex Andres at LEGOLAND Studios in Carlsbad. "I have always been involved with LEGO since I was a child so to create models such as this bellhop is really a dream come true," said Andres.
While the LEGO Bellhop arrived with his cap and suitcase, he left without a name. LEGOLAND Florida Resort is asking its fans to suggest a "bricktastic" name for its newest Model Citizen on its Facebook page:Facebook.com/LEGOLANDFlorida 

Amazing Breastfeeding Accessories for Mom
As a breastfeeding mama I'm always on the lookout for stylish and functional accessories. Chewbeads and NuRoo offer moms products that pull double duty! Add an extra layer of style while also keeping it functional with Chewbeads necklaces and NuRoo nursing scarves. Both of ...read more
Gender Neutral Nursery Color Schemes
Your family is about to bring a new person into the world, and you want to share a bright, open and welcoming world with your little one. Leave the stereotypes and generalizations behind and let your child enjoy a warm, loving nursery decorated thoughtfully by you and your ...read more
Create a Farm Themed Gender Neutral Nursery
The farmhouse chic trend is taking over nursery design and we couldn't be more thrilled. I'm over the overtly showy rooms filled with glitz and glam. This return to sweetness and simplicity feels just right. One of our favorite homewares shop, West Elm, has created the ultimate ...read more
The five-story LEGO themed hotel is opening in summer 2015 and will feature 152 brightly colored and highly themed rooms and suites, thousands of LEGO models and interactive play areas! The addition of the Hotel gives guests the opportunity to extend their stay and explore LEGOLAND Florida Resort for more than one day giving them the ultimate family experience.
To make a reservation visit: LEGOLANDHotel.com
MORE TRAVEL FROM MOMTRENDS
PIN IT!
Use Pinterest to save your favorite family travel articles, and be sure to follow our Travel with Kids board.