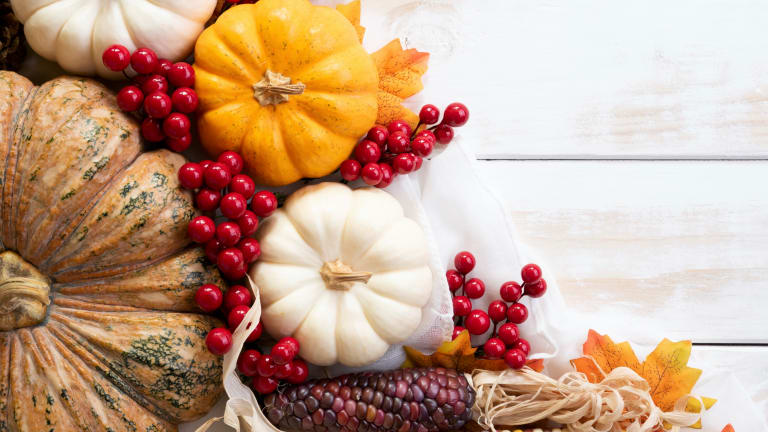 Our Favorite Thanksgiving Picture Books
November is known as the month of gratitude and we've rounded up children's books to enjoy as a family.
My little guy is all about kicking off the holiday season. But as his leaf-loving, pumpkin-spice sipping, autumn adoring mama, I refuse to skip straight to trimming the tree and rocking our ugly sweaters. We're savoring our bedtime rituals and I want to share our favorite Thanksgiving picture books.
Nope, it's still November, little guy—otherwise known as the month of Gratitude. And, despite the fact that, you, my ambitious child have already, drafted a hieroglyphic version of a gift wish-list for Santa, you'll have to endure a few more weeks of festive harvest-inspired celebrations before we move on to everything holly, jolly, merry, and bright.
Related: Thanksgiving gratitude free printables
Okay, I embellish a bit—to be fair, he's actually pretty excited about Thanksgiving, too. In fact, he's desperate to go shopping for all the important ingredients ("Did you buy a turkey yet!!? We need a TURKEY!" For the record, Dude won't even taste the main dish, but that won't derail his sheer determination.)
We haven't done our manic grocery stops just yet, but I have started talking to him about how we can show our gratitude all month long. I've found that he responds best to the core message of Thanksgiving through reading and sharing books! (Lucky for me, I love me some good holiday-themed kid-lit.)
Last year, I started a new tradition in our home. On Thanksgiving eve, I got the kids in matching pajamas and we read The Night Before Thanksgiving, a silly and sweet parody that everyone enjoyed. We'll do that again in a few weeks, but we've also started adding some more TG books into our bedtime routine. Here are a few of our favorites.
The Night Before Thanksgiving, by Natasha Wing and Tammie Lyon: "It was the night before Thanksgiving, and all through the house..." This funny rhyming book will get little ones excited for food, family, and festive fun.
Thanksgiving Rules, by Laurie B. Friedman and Teresa Murfin: Eat EVERYTHING you see. That's the official decree of Thanksgiving according to Percy Issac Gifford. Make some room, it's going to be a very fulfilling holiday.
The Great Thanksgiving Escape, by Mark Fearing: T-Giving ain't easy when you're a little kid. You have to dodge PDAs from overly effusive aunts, endure hours of adult talk, and get passed the wall of butts! But with creative help from his cousin Rhonda, Gavin finds the fun and makes a break for the backyard—before it's time to carve the turkey.
Balloons Over Broadway, by Melissa Sweet: Told with lively text and colorful illustrations, this books follows the story of Tony Sarg, the creator of the helium balloons in the Macy's Thanksgiving Day Parade.
Thanksgiving Is for Giving Thanks, by Margaret Sutherland and Sonja Lamut: A nice way to introduce kids to the concept of showing gratitude over the holiday season.
A Turkey for Thanksgiving, by Eve Bunting: When Turkey gets an invitation to Mr. and Mrs. Moose's Thanksgiving celebration he is terrified that they want [to eat] him for dinner!
There Was an Old Lady Who Swallowed a Turkey, by Lucille Colandro and Jared D. Lee: "Well, she's always been quirky." This old lady will swallow a turkey, a balloon, a boat, and more. But then again who doesn't stuff themselves silly on Thanksgiving?
This Little Turkey, by Aly Fronis and Migy Blanco: A cute alternative to this little piggy, these little turkeys are busy preparing for a festive holiday celebration. (Don't worry—nobody gets eaten!)
The First Thanksgiving A Lift-the-Flap Book, by Nancy Davis: An early (and friendly) lesson about how the pilgrims came to America and how the Native Americans taught them to harvest a festive feast.
MORE THANKSGIVING INSPIRATION FROM MOMTRENDS
PIN IT!
For more Fall crafting fun, be sure to follow our Fall Thanksgiving & Halloween board here.
This is not a sponsored post. All opinions are our own.