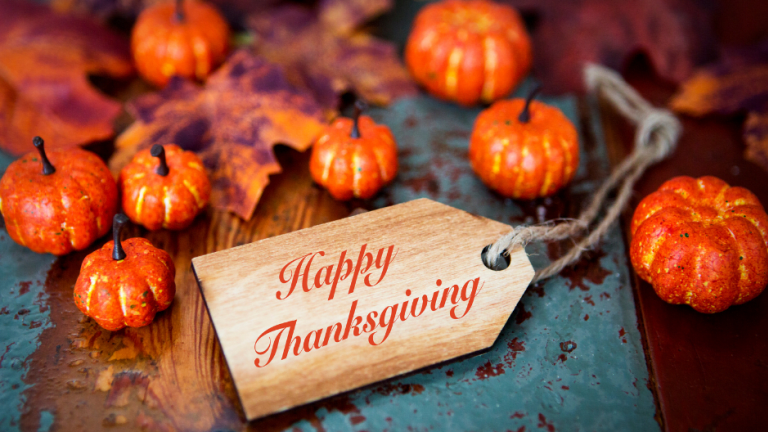 Happy Thanksgiving: Our Gratitude List
We're sharing a few of the things we're most grateful for in our gratitude list: family, friends, career aspirations, loved ones, and more.
Every Thanksgiving, we do the whole go-around-the-table-and-say-what-you're-grateful-for thing. The answers range from the sweet and sappy to the hilarious and far-fetched. We may make some jokes, but the real responses are pretty much the same across the board: Family. Friends. Loved ones.
Related: Thanksgiving turkey preparation safe thawing basics
Of course, if you gave me the time, I could recite a Shakespearean soliloquy about the people, places, things, and experiences I'm grateful for. Lucky for me, I have an outlet to share these often overlooked items. You see, I'm trying to embrace this feeling of appreciation all season long... And I want my kids to do so too. 
Our Gratitude List
In fact, when I picked my son up from school yesterday I saw that his teacher had put out a new group project. It was a turkey, and every construction-paper feather listed a kid's name and what he or she was grateful for. By and large, the answers were adorable. "I'm thankful for my mommy." "I'm thankful for my cousins." "I'm thankful for my toys." "I'm thankful for my dad."
Then I came across my son's answer: "I'm thankful for money."
After I collected myself from a fit of knee-slapping hysteria, I was overcome with a feeling of guilt. Have I been steering him wrong as a mom? For a full day I wondering where this came from, when he, unprompted, said to me: "Mommy, do you know why I'm grateful for money?... Because, I'm saving it in my piggybank for when we buy a new house." 
My heart just about burst and broke simultaneously. Yes, we've been house hunting, and this four-year-old soul wants to help. I should never have doubted him. And so, yes, that sweet boy tops my gratitude list this year. 
I'm grateful for the heartwarming moments that sneak up on us unexpectedly. Parenthood can be challenging and monotonous and exhausting. But it really is the little thing that make all the work worth while.
I'm grateful for coffee and wine. I know I'm a total cliché, but these two liquids motivate me and console me and get me through the day. They're my partners in parenting.
I'm grateful to have a career that fulfills my professional and creative aspirations and allows me to be with my children--to be at school pick-up every day and be present for all the moments, big and small.
I'm grateful for cuddles. I know they're fleeting. I know that one day, when they're big and grown up, these children of mine won't want to smother me in smooches, and so I try not to take them for granted. It can be difficult with an ever-growing to-do list, but I try to stop and smell that sweet baby smell as often as I can--and if I'm "nap trapped," I take a deep breath and enjoy the rare moment of peace and quiet.
I'm grateful for Pre-K. Two and a half hours, five days a week. It's not a lot, but it's something. It gets my active four year old out of the house and engaged. It allows me to run errands, play with my little one, or get some work done. 
I'm grateful for screen time, Teletubbies and Phineas and Ferb. Sometimes I need to pop my babies in front of their respective program of choice and get some $#%& done. I'm not proud, but I'm not ashamed either... 
I'm grateful for books. They offer me an escape, an outlet, and a sense of calmness. Paired with that coffee or wine--absolute perfection.
I'm grateful for Netflix. Sometimes you just need to call a sitter and binge watch a show. Me-time at it's least motivated, but rewarding nevertheless.
I'm grateful to have a partner who works hard outside and inside of our home. After working 12 hour days, he walks in and lets me tag out for a few. He just gets it.
I'm grateful for my village. As moms, we think we can do it all. But the reality is, we need help. I need help. And I get it--from my mom who watches the kids so I can work or run a solo errand or take an hour nap. From my brother who will play building games for hours on end. From my sister who spoils the kids silly with gifts. From my in-laws who fly up for birthdays. From my cousin who is the world's most incredible teacher and babysitter. From aunts, uncles, friends, and loved one. I'm grateful for friends, family, and loved ones who pitch in and offer my babies unconditional love. Isn't that what it's all about?
What tops your gratitude list? Check out our ABC Thanksgiving Printable. Happy Thanksgiving!
MORE THANKSGIVING IDEAS FROM MOMTRENDS
PIN IT!
For more Fall crafting fun, be sure to follow our Fall Thanksgiving & Halloween board here.
This is not a sponsored post. All opinions are our own.