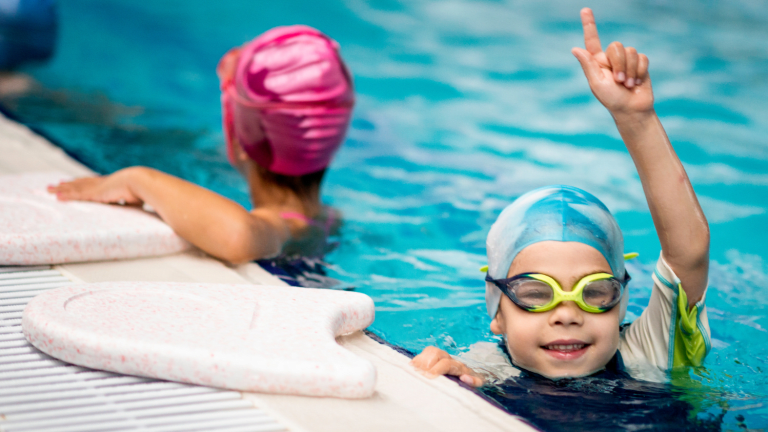 Splish-Splash—It's National Pool Safety Month
Four ways to help keep your families safe in and out of the water, this swim season and beyond.
My parents have a pool in their backyard… It's the place to be during the summer. There are endless water toys and fabulous floats and awesome aquatic games and gear. Much of my childhood was spent making up silly pool-basketball games with my brother and choreographing synchronized swimming routines with my sister. And, yes, much of my early adult years were spent lounging on the deck reading magazines and sipping mimosas. (Yes, mom, I'm sorry to say that those sports bottles were filled with champagne!)
Nowadays, my two toddlers get to experience the joy and luxury of having their "own" pool. Indeed, we'll spend many a "lazy" summer afternoon floating and splashing and kicking and playing.
Still, with young kids of my own, I'm now acutely aware of the potential dangers of swimming pools. My three year old old fell in the pool last summer—and he still talks about it with anxiety and fear. And rightly so. Thankfully, we got him up and out in a matter of seconds—but it probably felt like an eternity to him. I know it did for me.
May is National Pool Safety Month
I'm highlighting four ways to help keep your families safe in and out of the water, this swim season and beyond. Please note, these discussion points are just a launching pad (a diving board, if you will!) for a safety conversation. I encourage you to visit PoolSafety.gov for more in-depth information. It's an important topic, and a conversation you should have with your family before opening up the pool this season.
Early Education

According to the USA Swimming Foundation, professional lessons can help reduce the rate of drowning by 88 percent.
I enrolled my three year old in swim lesson this spring to get him prepared for our pool-packed summer break. I want him to feel empowered instead of nervous and unsteady in the water. I want him to know how to stay afloat should he slip again. I need him to be able to tread water and kick his feet and understand the fundamentals of swimming.
I recently came to the realization that this was not going to happen for him with me or my husband. He needed a professional teaching him one-on-one. He needed an authority figure who was not his Mommy or Daddy. He needed a kind, but stern instructor to give him the skills and boost his confidence.
We're a few weeks into his lessons, and it might just be the best investment I've ever made. Now I've just got to get this tiny swim fan in the water!
Active Supervision

Here are the terrifying statistics: 279 children under five drown each year; and 69 percent of pool-related accidents occur while one or both parents are supervising their children, according to Life Saver Pool Fence Systems.
That's why I stress the term "active supervision." It's more than lounging in a pool chaise with an engrossing book in-hand (I was being facetious when I said "lazy afternoon" earlier). It's purposely watching, interacting, and keeping alert at all times when children are in or near the pool. This also means, you have to think twice before sending young kids to pool play dates. You can't necessarily trust someone else to watch your kids.
Make Pool Rules

Just like there are house rules, there should be pool rules—important guidelines that shape children's behavior. No running, no diving, and no going out by the pool with a parent or adult present—this is just a starter list. It all comes down to this: playing by the pool should be considered a privilege, not a right!
Safety Systems in Place

According to the Red Cross, all pools should be surrounded by a self-latching gate that's at least 4-feet high; and, while not mandated by law in most states, an audible pool alarm should be used to detect motion.
We try to cover our pool whenever it's not in use—(bonus, it locks in warmth). Removing steps or ladders, when possible, is also highly suggested.
Finally, while fun donut-shaped floats are silly and cute, they're not effective at keeping non-swimmers upright and safe. If your child cannot swim properly, do not depend on rafts, arm-floaties, and other "fun" pool products–though, take it from me, there is a time and a place for these items... And now that I'm feeling a bit more practical in my preparedness for open-pool season, I'm ready to bring on all the fun!
Swim safely, friends!
MORE SWIMMING TRENDS
PIN IT!
Use Pinterest to save your summer fun and safety ideas. Be sure to follow our Swim-Team Moms board here.
This is not a sponsored post. All opinions are our own.