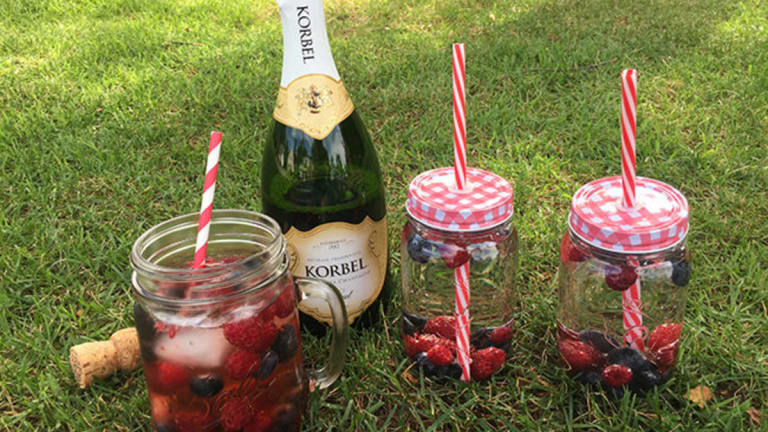 Happy Fourth of July extended weekend, besties! It's time to celebrate America with delicious food, great drinks, and fabulous company. We hope you have amazing plans with family and friends—and we want to help you kick off the festivities with the easiest, brightest, yummiest, most patriotic drink ever: the Red, White, and Bubbly!
Related: DIY 4th of July flower bouquet
My family started the weekend a bit early with a trip to the North Fork of Long Island. Raspberries are currently in season, and they are most definitely ripe for the picking—soft and juicy, with the perfect balance of sweet and tart. Yum!
We picked three giant baskets full of fresh raspberries on our outing—because, local produce always tastes better. Blueberries are not quite there yet—they'll be ready in another few weeks, so we snagged a box of organic berries from our market. I also picked up a bottle of California Korbel—because if you're going to drink champagne over the July Fourth weekend, it definitely should be made in the U.S. of A.

Five Tips for the Perfect Pumpkin Patch Visit
It's that time of the year again...pumpkin patch time! While I love a nice Pumpkin Spice Latte as much as the next fall lovin' girl...for me, the season is all about spending time with my family...and hopefully that time is spent outside as much as possible. If you're headed out ...read more
Perfect for Fall Pumpkin Spice Dirt Bomb Recipe
Get your pumpkin spice fix with this tasty dirt bomb recipe. Unlike fried donuts, this recipe is a little lighter and, since no hot oil is involved, a lot less messy. These dirt bombs, or baked donuts, are irresistible cakey muffins that are spiked with nutmeg and ginger, and ...read more
Save Money at a Ski Swap
Are the slopes in your future? If you want to save money on ski gear, consider a ski swap. A swap is a great way to buy and sell used equipment. Most swaps consist of a variety of gear, from brand new to used skis and snowboards to skis; from poles to boots to bindings and ...read more
I filled a mason jar (go big or go home!) with raspberries and blueberries and muddled them just a bit. I then added two oversized ice cubes and poured on my icy cold champagne. A cute striped straw completed the look, and I instantly had a red-white-and-blue drink to be proud of. Yep, I'll be drinking this all weekend!
I even made raspberry-blueberry water in these adorable mini mason jars from Party City for the kids. We enjoyed a patriotic picnic in the backyard... And if that doesn't say Americana—I don't know what does.
MORE 4TH OF JULY IDEAS FROM MOMTRENDS
PIN IT!
Use Pinterest to save your favorite ideas for summer fun. Be sure to follow our 4th of July board for more inspiration.
This is not a sponsored post. All opinions are our own.