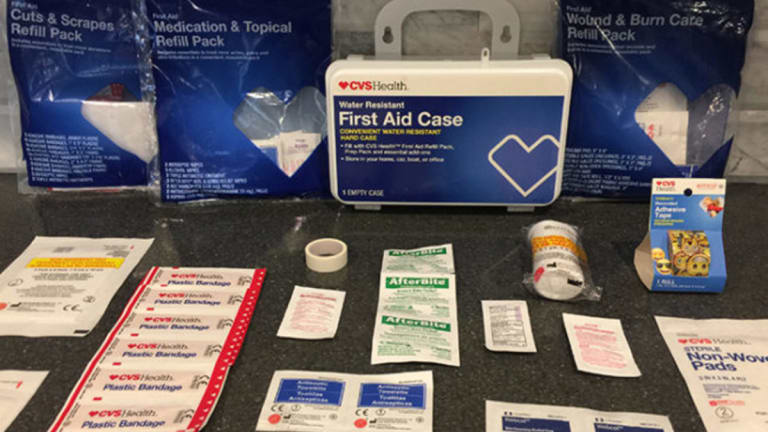 Ready, Set, Camp
We're sharing how you can save big on Save Big on Summer Camp Essentials With Some Help From CVS and the ExtraCare Rewards savings program.
My little guy is going to day camp this summer. He is so beyond excited to swim and splash and dance and craft and do all sorts of super-awesome outdoor activities every day for six weeks! Likewise, I am so beyond excited to give him a few uninterrupted hours of fun and games and play EVERY DAY for SIX WEEKS! He attended a mini camp last year (even got to make a tie-dye shirt), and LOVED it. 
Related: Get Week 2 Camp Mom-Activities
Suffice to say, five year olds have a lot of energy—and Dude has just got to get all those sillies out during the daylight hours… and then hopefully come home to me contently exhausted. (A mom can dream, right?!)
While we're not quite in sleep-away camp territory yet (although if it existed for not-quite-yet Kindergarteners, I'm pretty sure my husband would insist on sending him!), I can already see that camp is a financial commitment! Beyond the actual tuition cost, my guy needs to be prepared with a lot of… well, stuff. Thankfully, I know exactly where to get #allthethings to keep my little camper a happy one all summer long!
CVS is my go-to, one-stop store for stocking up on summer-camp essentials—because I know they've got it all. Better yet, I know I can save big time using my beloved CVS ExtraCare rewards program. Now that's a win-win!
Shipping your littles off to day or sleep-away camp this summer? Follow these five tips, and everyone will have a successful season!
Sun Essentials All Day, Every Day
I remember cringing every time my mother would approach with a bottle of sunscreen. She was heavy handed, and, at the time, I remember dreading the daily application. In hindsight, I'm grateful that my mom was so vigilant about daily SPF. By the end of August, I always had a healthy bronzed glow, and not a blistery red patch in sight. Lucky for me, my kiddos already seem to understand this, and happily line up for a generous morning slathering and frequent touch-ups.
If you're sending your kids to day camp, to the local pool, to the beach, playground, or anywhere in between, make sure to layer on the sunscreen. CVS has every brand option you could ever want and more. Some brands now even offer SPF in mousse form to make reapplication easier and more fun(!) for the little ones. Definitely pack a bottle for touchups in their daily bags!
If your kid is going to sleep-away camp, on the other hand, you have to trust that he or she will be self-reliant in the sunscreen department. Preach the importance, make sure the staff is on board, and pack a ton of options in their trunks! Of course, CVS also sells soothing aloe gels and lotions, in case your capable tween misses a spot or two.
Create a First-Aid Kit
Boo-boos will happen. Scratches, scrapes, bug bites, stings, and splinters are a common part of the summer-camp experiences. Load 'em up with bandages and first-aid essentials. I love that CVS sells refill packets for a built-your-own kit loaded with antibiotic ointments, antiseptic wipes, string relief wipes, medication, bandages, gauze dressings, burn creams, tape, buttery closures, gloves, and more. The single-use ointment packets are my favorite. Not only is it more convenient than carrying a big tube, it's easier, cleaner, and more hygienic!
Prepare for Snack Attacks
Growing kids need sustenance to keep them energized and active all camp season long. While candy swapping is a rite of sleep-away passage, I suggest packing them some healthy alternatives too! I'm a big fan of the CVS-exclusive Gold Emblem Abound line of snacks—featuring everything from organic nuts to granola bars to dried fruit, these good-for-them goodies will keep campers satiated and satisfied.
Surprise Them With Care Packages
If your kids are sleep-away bound, don't forget to ship them some care packages with goodies, treats, trinkets, and special surprise. Send your tween daughter (and her entire bunk!) a whole bunch of CVS exclusive Beauty 360 individually wrapped facial masks or go with ear plugs—those crickets can keep kiddos up all night!
Save Big Time
No doubt about it, all the "essentials" really can add up. Save money and your sanity by getting it all in one convenient place! The CVS Extra Care rewards program helps you maximize the savings on everyday purchases. Download the app, and you'll find even more exclusive coupons that are customized to your shopping patterns and repeat purchases. Plus, you earn 2 percent back on everything you buy every day —to be redeemed quarterly as ExtraCare bucks. Because, summer camp might not last long… but your CVS savings can!
MORE KID-CENTRIC FUN FROM MOMTRENDS
PIN IT!
Need more ideas on what to do with the kids? Be sure to follow our Activities to Do with the Kids board on Pinterest here.
Disclosure: I'm proud to be working with CVS Pharmacy to help spread the word about #BetterHealthMadeEasy and how to #FindYourHealthy. All opinions expressed are my own, and all product claims or program details shared should be verified at CVS.com or with the appropriate manufacturers.