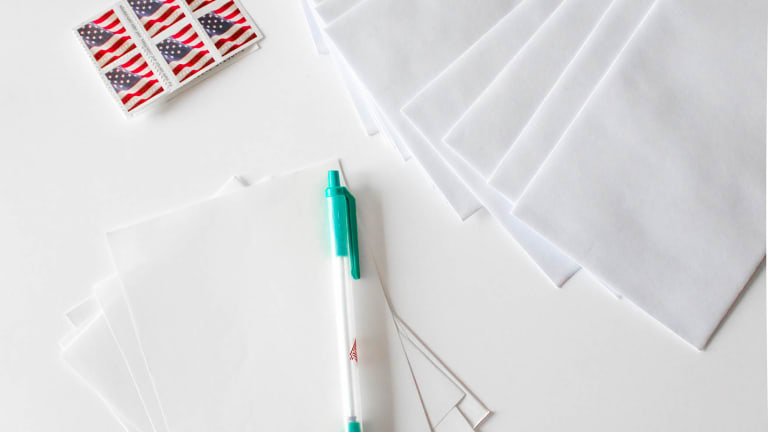 Pen Pal Tips and Ideas for Kids
Kids will learn important life skills like writing a letter, addressing an envelope, and using the mail system correctly—all while having fun.
When I was a kid, we went on vacation to the beach. I met a friend named Miep. We played together the whole time we were on vacation. We made sandcastles, played mini golf, and enjoyed our time together. I forget where she was from but we became pen pals and kept in touch for a short time after our summer vacation. We wrote each other a few letters back and forth. Now I'm getting my kids involved and want to share my pen pal tips and ideas for you to get started.
Related: Ways to Get Crafty with Crayons 
I always thought it was so much fun to have a pen pal, and when my daughter was in Kindergarten we decided to help encourage letter writing and handwriting by finding her a pen pal. We gave a shout out to some of our far-away friends who had kids and matched her up with a few pen pals. 
Since today is National Pen Pal Day (June 1st each year) we thought it was the perfect time to share some of our top pen pal tips.
How to find a pen pal
Ask around. Ask coworkers, fellow bloggers, friends, and family. Chances are you might even know someone already living in another country. Even someone who lives in a different state is interesting to a kid. You may already have friends across the USA (or the world) who have kids who would be willing to be a pen pal. Military families are great because there are a lot of American kids living abroad. 
Don't worry if you can't make a connection from folks you already know, there are organizations set up to help find a match. 
Here are some websites I found where kids can connect with pen pals:
The Power of Pen Pals
Kids will learn important life skills like writing a letter, addressing an envelope, and using the mail system correctly—all while having fun.
Writing their own address is important to help kids memorize it. Neat handwriting is practiced and kids will learn about geography by learning about where their pen pal lives.
Getting Started Pen Pal Ideas
Start by having the kids introduce themselves. Tell some basic things about themselves like their age, favorite color, or favorite activity/toy. They can share a story about something that happened to them or place they visited. Encourage them to ask questions and answer anything their pen pal wrote to them. We are always careful not to share too much personal information if we don't know the family.
How to Make the Pen Pal Process Fun
Having a pen pal can be such a fun experience for kids. Get kids some cute stationery, like these from Minted. You can even get personalized notes and matching stamps. My daughter is excited to use her her camp notes for summer.
Kids can challenge themselves by creating a story for their pen pal or send part of a story and have their pen pal finish the story and send it back. Codes are always fun to write in. My daughter likes writing in a number/alphabet code where each letter is assigned a number.
Another fun thing to do is send your pen pal a spy pen and then write "invisible" messages that only your pen pal can read.
Older kids can get in on the fun too. Set them up at the computer and let them practice their typing skills by creating a word document and printing it off. Have them create a collage page with their likes and interests.
Writing tools to make the pen pal process fun
Origami Stationary Kit / DIY card kit / Minted Personalized Stationary / Spy Pen Set / Kid Craft Avalon Desk
If you don't already have one, elementary age kids love having their own desks. This one has a drawer for pens and supplies and a few cubbies for stationery, envelopes, and stickers.
For even more ways to make writing fun, check out How to Make your Snail Mail Pretty  and 5 DIY Ways to Dress up Your Envelopes videos. Mandy shares some pretty cute tips!
MORE KID-CENTRIC FUN FROM MOMTRENDS
PIN IT!
Need more ideas on what to do with the kids? Be sure to follow our Activities to Do with the Kids board on Pinterest here.
This is not a sponsored post. We did receive samples to review. This post may contain affiliate links.