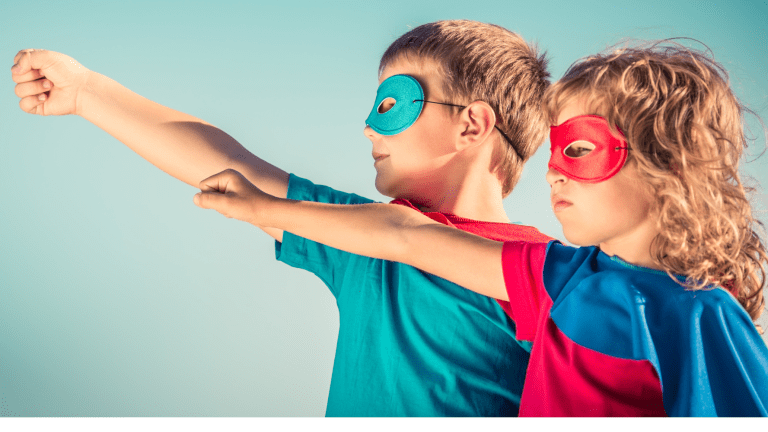 Getting my kiddos to eat their lunch at school every day is a challenge. They tend to go straight for the cookie or treat I pack and skip over the sandwich, forgo the carrot sticks, and ignore the apple. It seems I'm always looking for clever ways to get my kids to eat their recommended protein, fruit and vegetable servings throughout the day--especially at school when I'm not there to cheer them along the way.
Related: Teacher Thank You Note Free Printable.
How to Achieve Lunch Box Success 
I've found that we'll have some success with packed cucumbers and red peppers and a side of ranch or hummus. Color really seems to work when feeding the kids.
But to really get my littles excited, we created this fun super hero themed lunch! It makes cafeteria time more fun and fosters healthy eating habits.
Your kids will feel like a superhero when they open their lunch, and you'll feel like one too when you see they actually devoured their meal.
You don't have to have super powers to create this fun super hero lunch. Print out our free printables (right click to open this in a new window and then print--or down load below!) and, after you cut them out, just use a glue dot to attach them to the items in their lunchbox.
Making a Super Hero Lunch
Our super hero lunch consists of "POP!" cheddar pop corn, a PBJ "SMASH!" star shaped sandwich and a fruit and veggie cup. 
For an extra super touch make your spoon into a super hero sidekick. Use a glue dot to wrap a napkin around the spoon and send an inspiring little note like our "Have a super day" printable.
Download superhero printable 1.
Download Superhero Printable 2.
Want more Lunch Box Ideas from Momtrends?
Pin it!
Be sure to save your favorite ideas on Pinterest and follow our Kid Food board for more lunch-time inspiration.
This is a formerly sponsored post that has been updated.