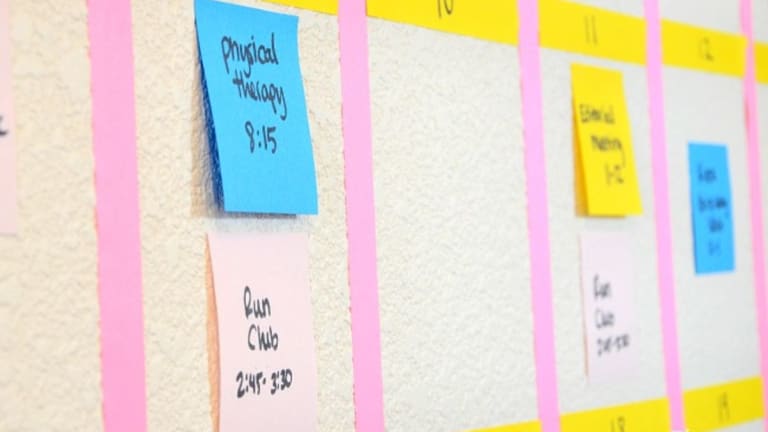 Organize Your Family Calendar with Post-it® Notes
Being more organized was a big goal for me this year and I feel like I am off to a great start with this Post-it® Note calendar.
Last week I shared how I created my color coded family calendar using Post-it® Notes from the Post-it Brand World of Color collections, and Post-it® Full Adhesive Rolls. I'm happy to say that after using the calendar for a while, it's been great! It's definitely helped keep us organized.
Related: Manage BTS paperwork
Make a Post-it® Note calendar
Our color coded family calendar was so easy to create and such a great tool for checking in. One glance at the calendar and I can keep track of everyone on a daily basis with beautifully colored Post-it® Notes from the Post-it Brand World of Color collections. The new line of Post-it® Notes offers a range of vibrant and eye-catching color palettes for simple color coding, so I can easily see that Dad has physical therapy and my daughter has Run Club that day.
This calendar is great at keeping my family organized, but it would be even more useful for families with busier schedules. My littlest one doesn't do much yet but once he gets bigger and more involved in activities, we will be adding many more Post-it® Notes and using this calendar even more.
I added a color guide on the side of the calendar with each person's name corresponding to their specific color Post-it® Note, in case anyone forgot which color note was theirs.  We've even included family activities on our calendar.
The Post-it® Super Sticky Notes from the Post-it Brand World of Color collections are easy to add or remove throughout the month. It's become a great checking in point for our family. We don't have to remember what each person is doing that week. We just look at the calendar each day and can keep track of each other with just a simple glance at a beautiful Post-it® Note.
Having assigned each person their own color simplifies it and creates an organized space for visual people like me.
MORE DESIGN TIPS FROM MOMTRENDS
PIN IT!
Need more ideas on what to do with the kids? Be sure to follow our Organization board on Pinterest here.