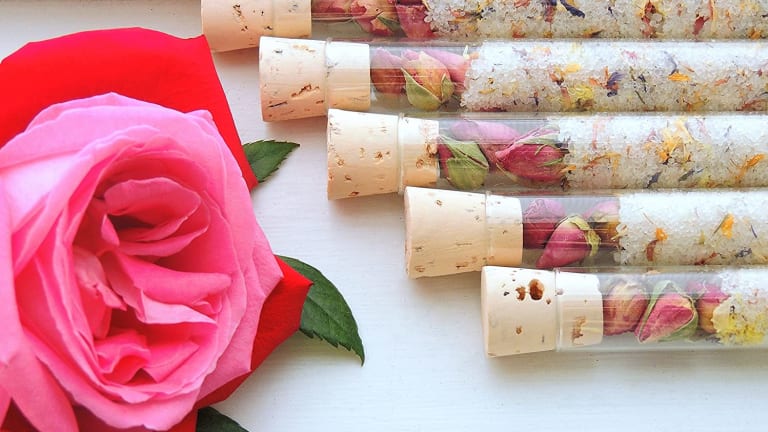 As a mother I may not have much "me time". Usually I throw my hair up in a ponytail, slap on some makeup and I'm out the door to school and 50 million other "mom" errands. When I do take some time to pamper myself, I try to find products that 1. don't take much time and 2. make me feel beautiful. I love to pamper myself from time to time and often have "spa nights" in my bathroom. A good bubble bath, a fresh pedicure, test out a new beauty product and I'm a happy mama.
Related: Last Minute Mothers Day gift guide
My new favorite, easy-to-use beauty tool is the facial and body brush from Toilettree. This fun little brush helps brush away dead skin cells so my skin is fresh and healthy. It comes with 2 little brushes for your face, a bigger brush for your bod and a small pumice stone attachment for those rough patches.
I've been using this brush on my face a few times a week and I love it. The bristles are really soft on my skin and never scratchy feeling. My skin feels more rejuvenated and refreshed afterwards and I feel like my makeup goes on smoother now.

Five Tips for the Perfect Pumpkin Patch Visit
It's that time of the year again...pumpkin patch time! While I love a nice Pumpkin Spice Latte as much as the next fall lovin' girl...for me, the season is all about spending time with my family...and hopefully that time is spent outside as much as possible. If you're headed out ...read more
Perfect for Fall Pumpkin Spice Dirt Bomb Recipe
Get your pumpkin spice fix with this tasty dirt bomb recipe. Unlike fried donuts, this recipe is a little lighter and, since no hot oil is involved, a lot less messy. These dirt bombs, or baked donuts, are irresistible cakey muffins that are spiked with nutmeg and ginger, and ...read more
Save Money at a Ski Swap
Are the slopes in your future? If you want to save money on ski gear, consider a ski swap. A swap is a great way to buy and sell used equipment. Most swaps consist of a variety of gear, from brand new to used skis and snowboards to skis; from poles to boots to bindings and ...read more
It has a rotating head so it does most of the hard work for you. And best of all, it's water resistant! It only takes a few minutes in the shower and viola I feel like I have a fresh face!
Since I've been loving this product so much I rounded up some other great beauty gifts Moms will love this Mother's Day for a little bit of pampering. We all love feeling beautiful!
1. Toilettree Facial Brush 2. Watercolor Lip Gloss Set 3. Essie Spring 2016 "Lounge Lover" 4. Bath Soak  5. Wine Bio-Peel  6. Rose Perfume 7. Conair Waterfall Lights Foot Spa 8. Himalayan Salt Foot Detox Blocks
MORE MOTHER'S DAY INSPIRATION
PIN IT!
Save your favorite ideas to Pinterest. Be Sure to follow our Mother's Day board here.
This is not a sponsored post. We did receive samples to review.