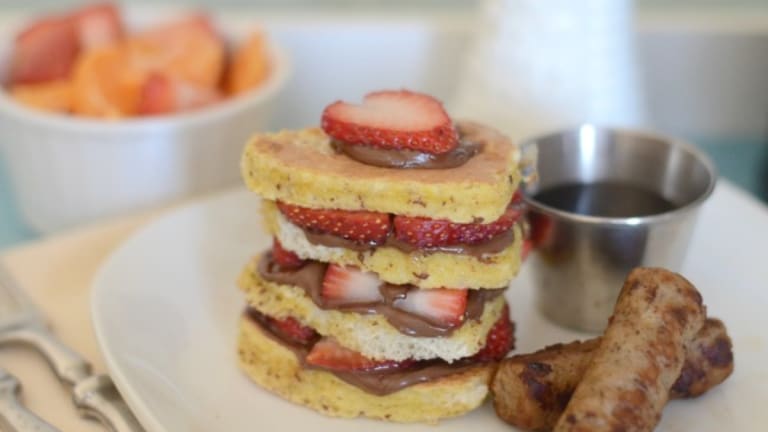 Publish date:
Mother's Day Breakfast in Bed Nutella French Toast Recipe
Mother's Day Breakfast in Bed Nutella & Strawberry Stuffed French Toast and Other Breakfast in Bed Recipes
Mother's Day Breakfast in Bed Nutella & Strawberry Stuffed French Toast and Other Breakfast in Bed Recipes
Mother's Day is right around the corner and we Mamas may not always admit it, but we are tired. Start her Mother's Day off right by letting her sleep in and then bringing her breakfast in bed. Every Mom loves to be pampered once in a while and breakfast in bed is an easy and fun treat.
Related: Breakfast in bed, the best way to start Valentine's Day 
Brining Mom breakfast in bed is sure to make her smile this Mother's Day. I can't think of a sweeter way to start her morning off right and let her know you appreciate all that she does.
Mother's Day Breakfast in Bed
Whether its omelets or pancakes, coffee or tea, or maybe just a donut you picked up from the store and some of her favorite juice, load up a tray and surprise her in bed.
I'm a coffee lover myself. A french press makes a great presentation and then Mom can refill her cup as she pleases and start her day in a slow leisurely way.
Nutella French Toast
One of my favorite breakfast in bed recipes is this Nutella and Strawberry Stuff French Toast. They aren't too complicated but they make breakfast feel extra special. Cut your french toast into heart shapes, layer with Nutella and sliced strawberries, serve with some bacon or sausage and some fresh fruit. Kids will love layer the fruit and Nutella between the french toast hearts and helping carry their breakfast creation to Mom.

Five Tips To For a Girl's First Leg Shave
Do you remember your first time shaving? Mine wasn't pretty. I snuck my dad's razor and shaved my legs dry. It wasn't pretty. Get your daughter ready for this rite of passage with the right tools and a quick education. We've got five tips to help you navigate your daughter's ...read more
Why You Should Add Wild Blueberries to Your Diet
Do your New Year's goals involve healthier eating? Adding more fruits and vegetables to your diet? Or even adding tasty new recipes to your repertoire? We've got five reasons for you to add wild blueberries to your diet. Our friends from the Wild Blueberry Association have ...read more
Why Moms are Loving This Blueberry Couscous Salad
It's blueberry picking time. And while most blueberry recipes revolve around baked goods, we've got something different to share. First, a few sentences singing the praises of this lovely fruit. Blueberries are high in antioxidants, improve memory function and reduce the effects ...read more
Serve her coffee (or tea) in a pretty mug that doubles as a Mother's Day Gift. I love the monogram trend for mom. This colorful initial mug with a pretty spring design is the perfect personal touch.
If you're looking for some more good breakfast in bed recipes, we've rounded up some of the best recipes, both savory and sweet! 
Baked Spinach Eggs / Four Cheese Tomato Omelets / Banana Peanut Butter Muffins (with chocolate chips) / Maple Bacon Pancakes / Carrot Cake Coffee Muffins / Blueberry Banana- Nut Oatmeal / Baked Cherry Cheesecake French Toast / Breakfast Quesdillas / Grapefruit Brûlée / Eggs Benedict with Smoked Salmon / Nutella and Strawberry Stuff French Toast / Cheddar Biscuits with Spicy Sausage Gravy
MORE FROM MOMTRENDS
PIN IT!
Use pinterest to save your favorite recipes ideas. Be sure to follow our Recipes to Inspire Board here.