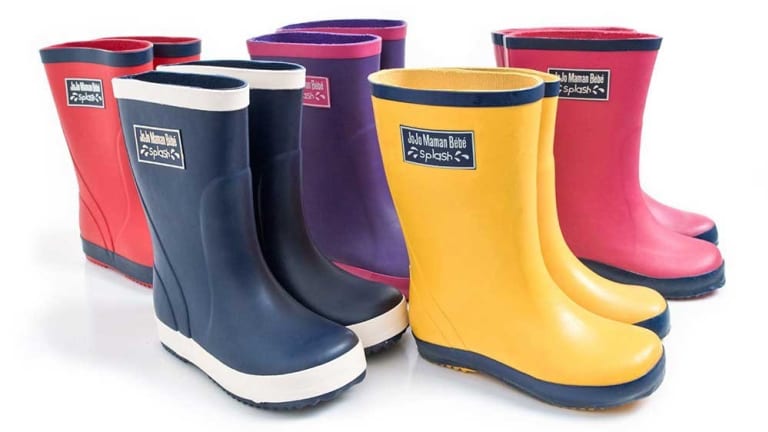 Mini Style: Cute & Functional Rain Gear
Reversible Waterproof Fleece Lined Rain Jacket and Wellie Rain Boots
After discovering Jojo Maman Bébé this fall, we are officially ALL IN. The brand exudes quality and carries a full collection to carry you from pregnancy through preschool. Once again, we're showing off the mini style for the preschool set, but this time we're focusing on outerwear - perfect for warmer winter weather and into rainy spring.
Mini Style: Cute & Functional Rain Gear
Max is splashing in the melting snow wearing the Reversible Waterproof Fleece Lined Rain Jacket and Wellie Rain Boots. The Rain Jacket is, in a word, amazeballs. (You're welcome for the dictionary-worthy word.) The description says "fleece lined" but that is truly selling it short. This is not your average fleece. It's downright puffy and comfortable and far more warm than a simple rain jacket. Depending on your winter weather, it could easily be the only coat your child needs - and it's only $69.
The Jacket is reversible and can be worn with the waterproof or fleece side out. The fleece side of Max's navy coat is a striking red and white stripe (you see it in the hood). There are thoughtful details throughout, including my favorite: the longer back side to keep bums warm and dry.
It's hard to come up with something more classic than yellow rain boots and this pair of Wellies is no exception. The navy contrast adds some fun color - and matches his rain jacket, of course. Made of durable rubber with cotton lining anti-sweat lining, the rain boots are to the task of keeping little feet through a day of play.
For more of our favorite rain gear
Pin it! 
Use pinterest to save your favorite fashion finds for kids.
This Mini Style: Cute & Functional Rain Gear feature is not sponsored.