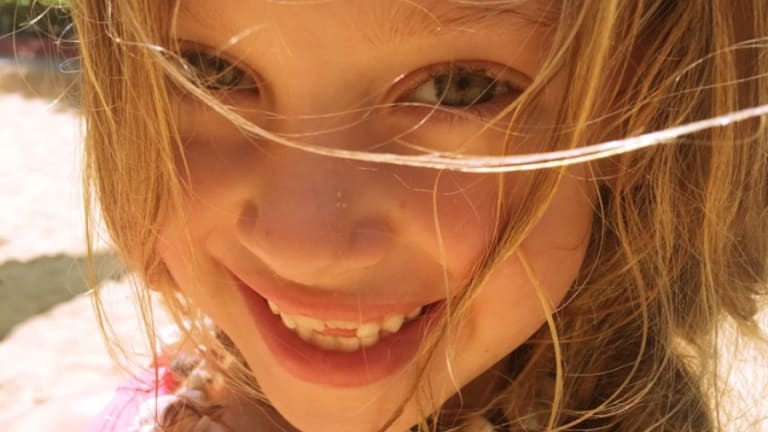 Publish date:
Make Your Own Mermaid Necklace
Haven't been hitting the beach as much as you'd like this summer?!
Well, don't worry, I the perfect DIY craft that will make you feel like you've spent the day with your toes in the sand.
With the kids in camp most of the day, we haven't been able to get to the beach as much as we hoped. And one of our favorite things about a day at the beach is collecting sea shells. We have jars filled with shells that we've saved over the years. This special tradition had me thinking... what better way to spend the afternoon than to create something out of seashells!
I created our own little "beach" with actual sand and real seashell beads. I let the kids dig through the sand and discover the little hidden treasures. Just like a real day at the beach when you choose certain shells that really fascinate you. I let the kids choose their specific shells to create a mermaid inspired necklace!
Brinkley even got into full costume to channel her own inner mermaid! Check out the fun pictures below...
The best part was hiding a special golden shell bead that my daughter was thrilled to discover; like finding that magical shell in the sand that you want to keep forever.
Here is what you'll need to make it:
How to create:

5 Pretty Ways To Organize Your Jewelry
I admit - I'm guilt. Despite my best efforts, my "jewelry drawer" has become a tangled mess of necklaces, bracelets and earrings. This cluttered collection not only makes it hard to see what I have, but difficult to untangle the pieces I do want to wear! This summer, I'm ...read more
This Year's Coolest Jumbo Pool Floats
Pool season is almost here! I can't wait to relax, read a book, and sip a cocktail while lazily drifting in an oversized float. (Just kidding, I have two toddlers--but a swim mama can dream, right?). If you've got a staycation planned, check out this year's coolest jumbo pool ...read more
Crystal Clear and Pristine: Pool-Cleaning Tips
Tropical Storm Isaiah gave us quite the midsummer surprise here in the suburbs of New York City. We just got our power back on after a whole week of darkness! With trees down, debris everywhere, and lots of uncertainty, one thing we forgot to check on: our above ground Intex ...read more
Start by adding the sand to the large bucket.
Disperse the beads throughout the sand hiding most of them but leaving a few visible to fuel their creativity.
Provide an area where they can collect their shells and start to lay out their necklace design.
Use stretchy string to bead the necklace.
I love the shell beads that I bought (linked above!) because they have a large enough hole so the kids were able to string all the shells themselves. I also love the stretchy string which helps them put on and take off the necklace easily.
The kids will love searching through the sand, looking at all the unique shells and creating something beautiful that they can enjoy wearing all summer long!
Doesn't this look just like something a real mermaid would wear?! Check out my little mermaid wearing hers to the park the other day.
TIP: This is also a great craft to do in a group! We did this craft last summer when we were staying with friends at their vacation home. There were tons of kids and providing them with this fun activity which entertained them for hours (between the pool and sprinkler) and all the kids loved wearing their creations for the rest of the trip!
For more fun DIY Crafts for you and the kids, head over to my blog Downtownchicmoms.com.
MORE SUMMER FUN IDEAS FROM MOMTRENDS
PIN IT!
Need more ideas on what to do with the kids? Be sure to follow our Activities to Do with the Kids board on Pinterest here.