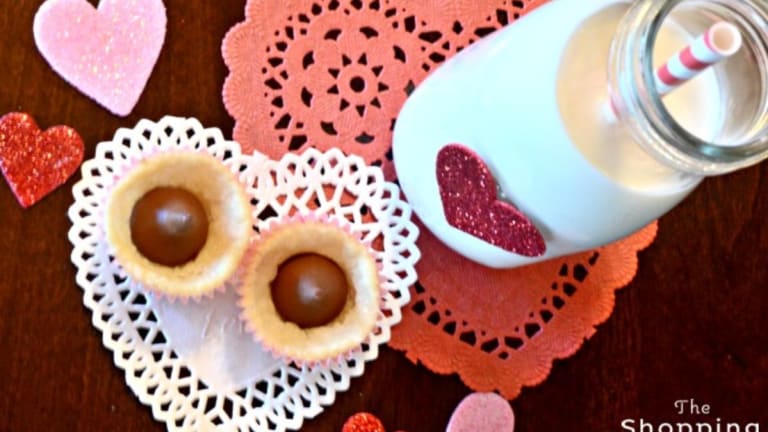 Kitchen Tips for Kids and Kissy Cookies Recipe
Here are a few important kitchen tips for kids and a delicious cookie recipe.
This year we're excited to start a fun new monthly series called "Kids in the Kitchen" where we'll be sharing tips, tools, kid friendly recipes and more for getting kids involved with cooking. To kick things off I'm sharing some kitchen tips for kids and a Kissy Cookie recipe.
My daughter has been helping in the kitchen since she was old enough to pour, mix, and mash. My 16 month son is known around our house as the little taste tester. There is always a stool pulled up to the counter to help or watch. We like to get our kids involved in the kitchen.
Tips for Cooking with Kids
Cooking at a young age can help spark a curiosity for food and healthy eating that will last a lifetime. While in the kitchen kids are learning to listen, follow direction, use their creativity and have fun. By getting kids involved in the food preparation they are more likely to branch out and try new foods too! Kids of all ages enjoy the responsibility that comes along with learning to cook and they love the accomplished feeling when they create something the whole family can enjoy.
Here are a few important kitchen tips for kids. Cooking can be a dangerous thing. Knives and hot stoves, watch out! We want to teach our children to use caution when in the kitchen especially when they are just starting out. As they become older and more confident these rules will be engrained already and they will be able to do more creative things in the kitchen on their own.
Tips for Parents
After I created that graphic, I was cooking with my daughter and realized that I should make a one for parents teaching kids. These tips were important for me to keep in mind, especially when I first started letting my daughter help with bigger recipes.
Patience. You will need lots of it.
Let go of control. Yes it's easier for you to stir that up really quickly. Let go of that control and just guide them. It's hard sometimes.
Everything will take 5 times longer, plan accordingly.
Kids are messy. Embrace it. Have them help you clean up afterwards!
Kissy Cookies Recipe
Since Valentine's Day is just around the corner I thought it would be fun to share a sweet recipe for Kissy Cookies that my kids love. It's an easy recipe that any age child will enjoy helping bake.
I used to make these cookies with my mom when I was a little girl. This recipe is easy enough for even the youngest cook to join in and help with. Older children can prep this on their own but might want adult help when baking them in the oven. But cooking together is a always fun so jump in and have a good time with it.
Kissy Cookies Recipe Ingredients
**Makes 48 cookies. Great for Valentine Parties!
refrigerated roll of cookie dough (we use sugar)
bag of Hershey kisses (48-52)
mini cupcake liners and mini muffin tin
Kissy Cookies Recipe Directions
Let kids help unwrap about 48 Hershey Kisses and set aside for later. Preheat oven to 375F.
Open your cookie dough roll onto a cutting board. Using a butter knife (or sharper knife for more experienced kids) kids can slice the cookie dough log into about 12 even circles. Cut each of those circles into 1/4's (fractions!!) and place each piece in a lined mini cupcake tin. We rolled ours into balls slightly. (If you have more than 1 child, have the older one do the cutting and the younger one put them in the cupcake tin)
Bake for 7-8 minutes or until lightly browned. Carefully remove the cookies from the baking tin. While still warm, gently press in a Hershey Kiss in the middle of each cookie. 
Let cool completely and enjoy cooking with your kids this Valentine's Day!