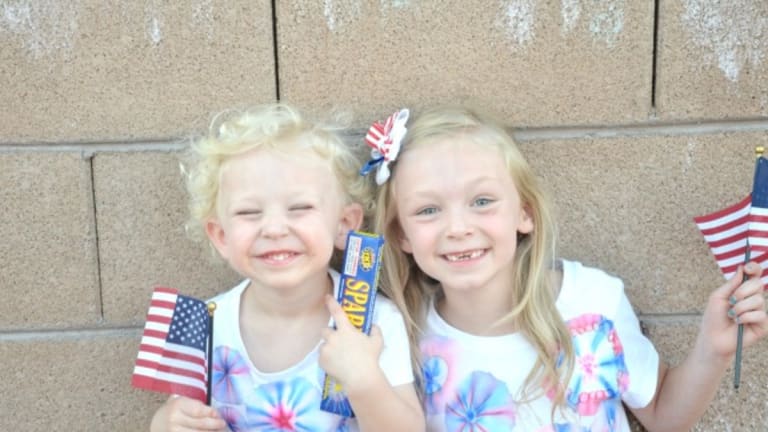 Kid Craft: DIY Fireworks Shirt!
Make this DIY firework shirt with your kids to prep for 4th of July.
Wearing red, white and blue for 4th of July is pretty much a must. The kids and I wanted to make our own shirts this year, so we came up with this fun DIY firework shirt that even my 2 year old helped with (after he woke up early from his nap of course)
Related: Macy's 4th of July fireworks
This DIY fireworks shirt is pretty easy to make and a fun kid craft for the summer. We had all but the white shirts already at our house. But here's a tip, save white shirts with small stains on them, they are always work for tie-dye.
Fireworks Shirt Supplies:
White shirt
Blue and Red sharpie
Cardboard
Rubbing alcohol
Eye dropper
Fireworks Shirt Directions
Place a piece of cardboard inside your shirt to create a barrier between the front and back layer.
Using your blue and red sharpie, create dot and line patterns. We did ours one pattern at a time.
Once you have a design you like take a dropper full of rubbing alcohol and drop it on the center of your design. The rubbing alcohol will cause your design to spread and make a pretty firework looking pattern.
Make as many big and little designs as you want. We even make one with a star in the middle.
Let your DIY fireworks shirt dry, set it with a hot iron and it's good to go! The kiddos loved making our DIY fireworks shirts to wear this 4th of July! They'll want to wear these shirts all summer long.
MORE 4TH OF JULY IDEAS FROM MOMTRENDS
PIN IT!
Use Pinterest to save your favorite ideas for summer fun. Be sure to follow our 4th of July board for more inspiration.
This is not a sponsored post.