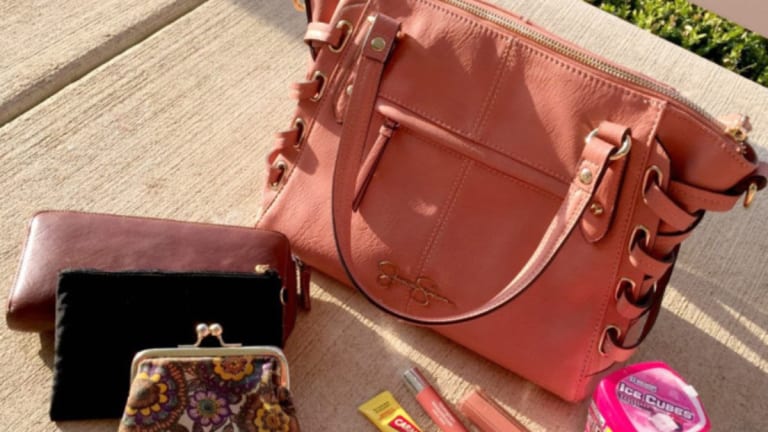 In The Bag: Momma in Flip Flops
Interview series with the top mom influencers to see what they carry along to make mom life and work life easier.
Take a peek inside the bag of this busy mom of 4, soon to be 5. Welcome Andrea from Momma In Flip Flops! We adore her cute baby bump and maternity style! This lady knows how to rock more than flip flops!
Related: The ten best flip flops for summer
What's in my bag... Well to be honest, as a mom of soon to be five.. I typically have a lot of catch all that my handbag collects. I'm still at that "I need a bag that can carry whatever we need on the run, but still looks fashionable." For me it's all about practicality as I run around with my sweet gang and you can guarantee you're gonna get the real deal.
My Current Bag is...
This gorgeous, yet practical Jessica Simpson Faux Leather Crossbody Satchel with Side Lacing in the coral. Perfect for spring and summer, just the amount of pockets a momma needs and is easy to carry. I love it because it's not your typical neutral color that's easy to gravitate when purchasing a handbag, yet it's not crazy out there that you never want to actually use it.
What's in My Bag...
This is where I could have been a little more real ... like sharing all those "free Culvers scoops" my kids bring home, the crumbs because someone put an opened cracker in my bag without my knowing, or even the toys that somehow collected. Lots of loose change and on most occasions whatever paper list I had to have so I would actually remember what I was doing. here's a little more of what "should" be more a bit more accurate.
Wallet, super old but genuine leather and can actually hold a checkbook along with credit cards, etc.
Change purse.
Business Cards.
Hair ties typically for my daughter.
Carmex & Lip Colors.
Pen with usually a list.
Gum with being pregnant it's essential to help with the heart burn.
Missing - my phone (because what else would I capture every memory with.)
If I had to mention items I couldn't live without or what I would most definitely grab for a clutch bag...
Hobie Sunnies that continue to be my favorite after a couple of years and still look new.
Neutrogena Moisture Smooth Color Stick (that as you can see the toddler enjoyed). Favorite color and favorite kind!
I'd also have my phone and the obvious cards and keys for my latest adventure.
As you can see, this Jessica Simpson Handbag is incredibly versatile... I can wear it with jeans and a tee, dresses, or shorts for just about any occasion, but mostly.. I can use it a mom of soon to be five and it functions fantastically for me!
You can see other ways that Andrea styled this bag here.
Follow Andrea on Facebook, Twitter, Pinterest and Instagram!