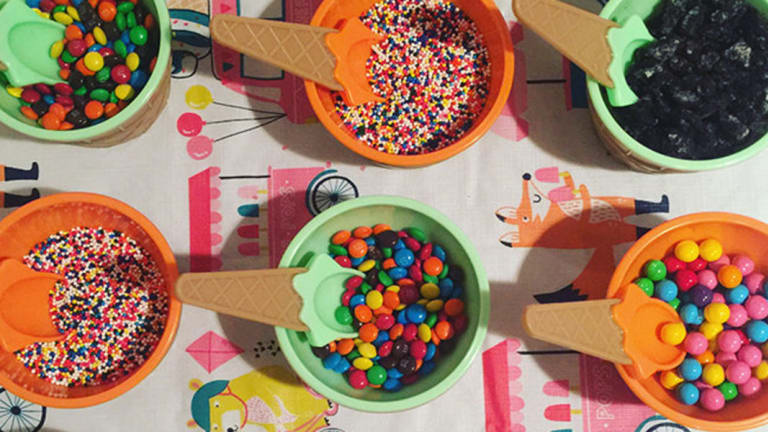 How to Throw an Adorable Ice-Cream Birthday Party
We're sharing products, tips, and inspiration to help you throw a fun and adorable ice cream party this summer season for the whole family.
Clearly we're big on our frozen treats over here. So we couldn't let National Ice Cream month pass without a bang! To celebrate my little guy's fourth birthday (they grow up too fast!), I threw a colorful, fun, and festive pool party, complete with scoops, sprinkles, and even a pop-up cardboard ice-cream truck (the cherry on top!) of our Saturday sundae soiree.
Related: Plan a pirate birthday party
Pool Party Birthday Fun
It was a scorching-hot 95-degree afternoon, so it was a good thing we have a pool in our backyard. And this rainbow Popsicle float couldn't have been more appropriate for the occasion.
Ice Cream Party Decorations
Inside our outdoor party tent, decorated with a DIY cone-garland, of course, we created a play area for the kids: picnic tables for eating lunch, a crafting station (we made these adorable ice-cream headbands!), a tattoo station, toys, games, and, of course, a pint-sized ice cream truck! 
Get the Ice Cream Bean Bag Toss here.
Ice Cream Truck
When I spotted this Famous OTO cardboard truck, I knew it would make the perfect "photo booth." The kids and grown ups all took photos inside and, of course, the little ones enjoyed some ice-cream-inspired role play playing. The truck is great for play and parties alike, and at $59, the price point is fair. (Plus, unlike other cardboard trucks I've seen, this one doesn't need to be colored in or painted.)
While browsing the Famous OTO site, I saw that they also have a miniature "cat house" ice cream truck. While I don't have a kitten to shelter, I did think this would make a super-cute dessert table centerpiece. Of course, I neglected to notice that the advertised ice-cream flavors were all feline-inspired (salmon, anchovy, albacore, etc.), but I solved that problem--rather humorously, if I do say so myself--with the use of this sleeping-cat statue. 
This outstanding melting ice-cream-cone cake was created by New York Cupcakery and was definitely a statement maker.
Finally, you can't have an ice-cream party without a make-your-own sundae station. How cute are these bowls and sippy-cups from Oriental Trading.
MORE BIRTHDAY PARTIES FROM MOMTRENDS
PIN IT!
Be sure to follow our Kids Birthday Party board on Pinterest for more party inspiration.
This is not a sponsored post. We were given some samples for review. All opinions are our own.