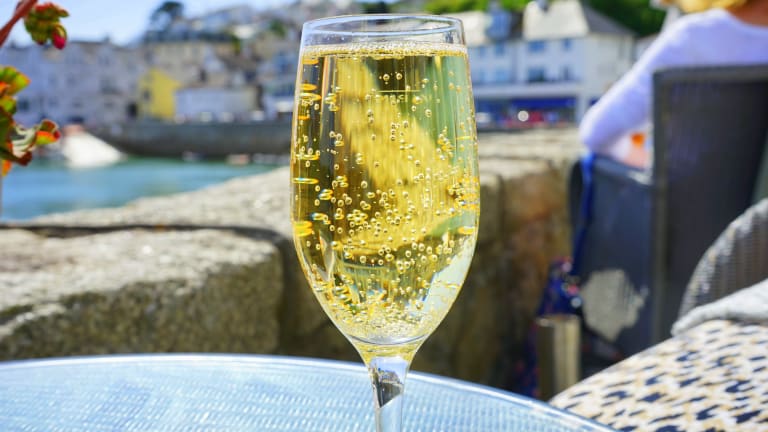 We usually have a good supply of red wine on hand in our home, but I try to have a more diverse variety stocked on our shelves and in our fridge as we approach the holidays. I like to have bottle of something fizzy and fancy chilled should we find ourselves having an impromptu fete--tis the season after all, but I often forget replace my champagne once I use it. But necessity is the mother of invention so we experimented in the kitchen and put wine in the SodaStream.
Related: 5 Ways to Celebrate National Wine Day
How to Turn Wine Into Bubbly 
With this kitchen hack you can turn any bottle of white into a delicious sparkling wine any old time you'd like. It's perfect for entertaining, too, because you can please differing tastes with only one bottle. Serve some glasses straight from the bottle and add a little fizz to pour bubbly for others. Oh, yes he did. And the result is glorious.
DIY Bubbly Wine Instructions
Making your sparkling wine couldn't be simpler because the SodaStream does all the work. 
Fill the reusable carbonated bottle to the line. 
Add as much fizz as you'd like. The wine definitely reacts differently than water, so we have learned to let it sit for a few minutes before removing the bottle from the SodaStream machine. 
Remove bottle from the SodaStream, pour and enjoy!

The Ten Best Wooden Play Kitchens For Kids
Cooking is a timeless fascination for children. This type of play goes beyond gender and teaches kids loads of life skills along the way. An investment in a play kitchen is money well spent, as it can provide hours of entertainment. We've rounded up the ten best wooden play ...read more
New Victory Announces a New Season of Shows
We know you're busy planning picnics and summer outings, but we wanted to let you know that The New Victory just announced their new season and it looks fantastic. We thought you'd like a sneak peek of what's in store! Each year the New Vic theater brings culture to tourists and ...read more
Fun Ways to Discover Venice Italy with Your Family
Greetings from Italy wear the gelato is rich, the clothes divine and the scenery is inspiring. Now that I've been to this fine city in the north of Italy, twice, I've amassed a list of favorites to share. These are some fun ways to discover Venice, Italy with your family. ...read more
We've been using one of our smaller carbonating bottles (the .5 Liter size) to make a small batch of sparkling wine at a time. The wine will keep the carbonation throughout the day in the bottle, but we've found it's best to enjoy it the same day you make it.
Want more Wine from Momtrends?
PIN IT!
Looking for more food ideas? Check out the Momtrends Wine Time Board on Pinterest!
This is not a sponsored post.