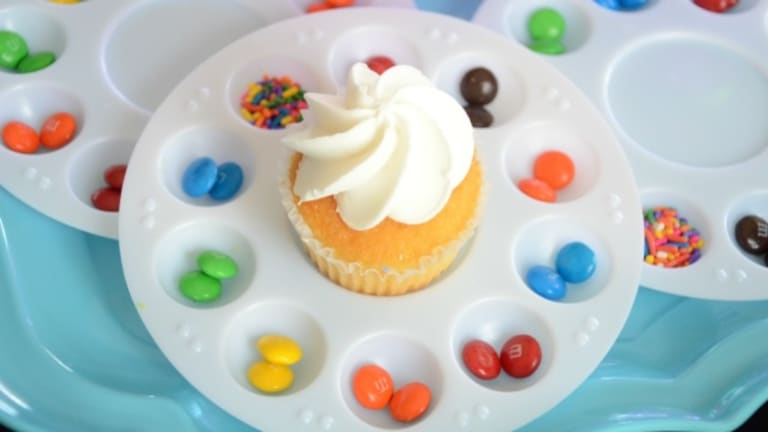 How to Throw an Art Party: Cupcakes and Canvases
Invite some friends and their kiddos over for a cupcakes and canvases art playdate. Our ideas are great for a simple birthday party.

My little guy is starting to get to the age that we've been having more playdates and planning more activities to do with friends. He's starting to become more artistic and loves to color and paint with his sister. I recently invited over some of my friends and their kiddos for a cupcakes and canvases art playdate.
Related: Kid Craft Safari Animal Markers 
The adults mingled and talked while the kiddos played. I set up our new Little Partners Tri-side Learn and Play Art Center to entertain the kids.
The Tri-Side easel has 3 different sides for lots of fun play - chalk board, magnetic dry erase board, and felt board. There is also a refillable paper holder and 4 paint cups.
All the kids we had over for our playdate are toddlers so they were distracted pretty easily. They loved to come and go from the different sides of the easel.
They really loved the magnetic/dry erase board. I bought some colorful magnetic letters for them to play with. The kids liked taking them on and off and next time we'll do more letter recognition fun.
There is also a little basket underneath for storage of dry erase markers and any magnets.

The bright blue chalkboard was also a hit. There is a little storage tray to hold your chalk and eraser (included) for lots of drawing and erasing fun.
After a little while of "free play" at the easel I started setting up our art activity for the kids. My favorite place to get art supplies is Lakeshore Learning. They have giant bottles of washable (very important) tempera paint and no-spill cups with lids. The cups are awesome because they allowed us to use a little paint now and save what they didn't use.
We set up canvases with painters tape marking out their first initial. The chunky paintbrushes were perfect for their little hands. Soft nylon bristles are great for smooth painting and there were enough paint brushes for each color with a few left over.
To help keep the mess contained we had the kids wear lightweight aprons in 3 fun colors.
You can see the paint cups in action below. The lids are designed to help keep the excess paint contained.
The kids loved painting on their canvases and each one of them had their own painting style. We talked about their favorite colors and encouraged their blooming artistic side as they painted.
We set our paintings aside to dry and went inside for a snack. I served paint palette cupcakes and milk in these colorful Munchkin sippy cups.
The cupcakes were easy to put together and totally cute. I got these mini paint palettes at Walmart and added colorful candy and a plain cupcake for them to decorate. 
Now, my kids pretty much think this is how cupcakes should be served all the time. Ha!
You can throw your own painting party/playdate with our inspiration.
MORE BIRTHDAY PARTIES FROM MOMTRENDS
PIN IT!
Be sure to follow our Kids Birthday Party board on Pinterest for more party inspiration.
This is not a sponsored post. We received samples to review. As always all opinions are our own. This post may contain affiliate links.