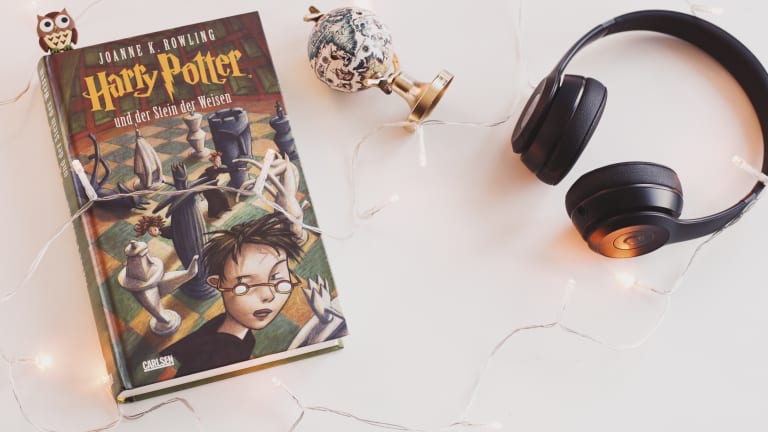 Harry Potter DIY Book Mark
In Honor of National Book Lovers Day, August 9th, try this craft with your Harry Potter lovers.
Believe me when I tell you, there are some things you're never "too old" for. I got started late in the Harry Potter game. I didn't actually read the books until I was in college, but I remembered what a big deal they were when I was in the fifth grade. My friends all went to the local book store the night of the release and I totally didn't get what all the fuss was about. (I was a Lord of the Rings freak at the time... I still am. Yep. Nerd glasses are permanently on.) In Honor of National Book Lovers Day, this coming Tuesday, August 9th, I encourage you (and your kids!) to get reading!
Make a Harry Potter Book Mark
Now that I'm a total Potter-head, the release of the latest installment has got me all "Confunded." n x I like it (so far, no spoilers!). To celebrate, I made this quick Harry Potter inspired bookmark that you can make for yourself or your kids, who are undoubtedly reading this book/play right now too.
Here's what you'll need:
DIY Book Mark Instructions
Take a long strip of black craft paper and fold it in half. Hot glue the two sides together. Fold it over again and add a magnet on each end. Then cut out a lighting bolt shape out of yellow paper. On the other side, you can add your favorite spell. I put LUMOS on the back of mine.
This magnetic bookmark holds your page AND looks awesome. Everyone will want one! Which is OK because it takes about 5 minutes to make. Happy crafting!

Want more Harry Potter? Gifting Harry Potter is always a good idea. We love these Harry Potter tumblers from Tervis. Shop the collection at Tervis here.
More Harry Potter on Momtrends
Pin it!
Get more inspiration from our What to Read page on Pinterest.
This is not a sponsored post