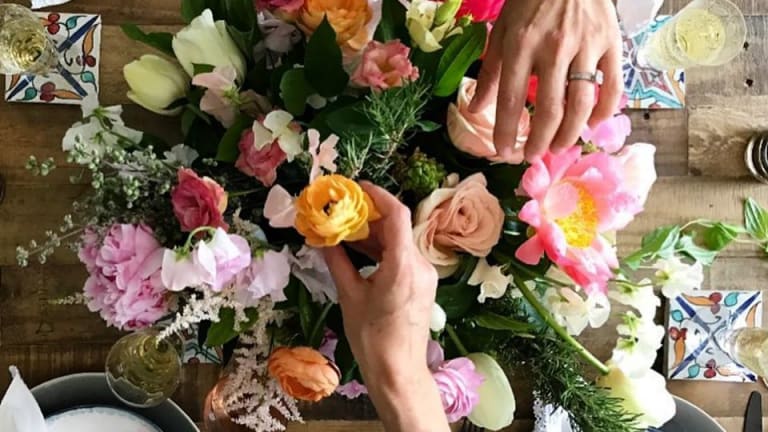 Happy Mother's Day—5 Simple Joys of Being a Mom
Whether you have big plans or none at all, take the time to enjoy the little things that make being a mom so joyful.
Writing about motherhood is a rather daunting undertaking... There really are no words that adequately summarize what it means to be a mom— how it feels to hold your child for the first time or what it's like to watch your babies grow into independent little people. It's magical. It's miraculous. It's simultaneously heartwarming and heart-wrenching; and somehow both entirely fulfilling and totally depleting. It's an indescribable, almost unfathomable love.
Related: My motherhood mantra
Putting all of this into words feels like a futile attempt. And, so, instead of writing about the trials and triumphs of "mommying," I've decided to devote today's Mother's Day post to some of the simple joys of motherhood— the little things that catch us by surprise and make us smile. There's no doubt in my mind that being a mom is the single hardest job on the planet. It's trying and tiring and totally frustrating at times. But these daily pleasures always bring light and levity to our lives.
The Homemade Art...
Nicole, our publisher and CEO of Momtrends Media, shared this adorable gem with us! There's nothing like art created by our littles. This is how her daughter sees her— in the garden, cooking tomatoes, and wearing heels. (We just think she needs a #MomBoss laptop and Starbucks iced-tea lemonade—and then it would be a pretty accurate depiction!)
A Good Read...
Reading to my kids is one of my great pleasures. I'm a proud bibliophile, and I hope my children will one day, too, enjoy escaping to far off lands with their noses buried in great novels. Until then, I'll soak up the snuggles I get every night when we curl up to read together. Of course, I also enjoy a good grownup book. Me-time is ever more precious (and way too scarce) once you have kids—and reading is one way I get to relax and unwind. Sleeping babies, a bit of fiction, and a glass of wine—I'm one happy mama.
Matching Everything…
I love a matching mommy-and-me outfit as much as the next mama. But it can take a lot of time, effort, and coordination—sometimes I just don't have the energy. (Let's face it—most days I leave the house in pajamas!) But coordinating socks? Now, that is something I can handle. I get such a kick out of the sweet sets from Happy Socks. (Don't we look festive?)
Sunshine and Play...
Don't be fooled—I get tired of building towers and playing make-believe indoors all day. Thankfully, now that the days are getting longer and brighter, we can go outdoors and embrace the sunshine. The subtle breeze, the fresh air—it puts instantaneous smiles on all of our faces.
The Silliness...
The spontaneous giggles. The funny made-up words. The homemade hats. The silliest ideas you've ever heard. Kids do say the "darndest" things. My little one asked me if he was going to be old enough to grow up and get a job before Mother's Day—because he wanted to have the money to buy me a present. Does it get any sweeter?
Happy Mother Day, mamas! Whether you have big plans or none at all, I hope you take the time to enjoy the little things today. xoxo
MORE MOTHER'S DAY INSPIRATION
PIN IT!
Save your favorite ideas to Pinterest. Be Sure to follow our Mother's Day board here.
This is not a sponsored post. All opinions are our own.