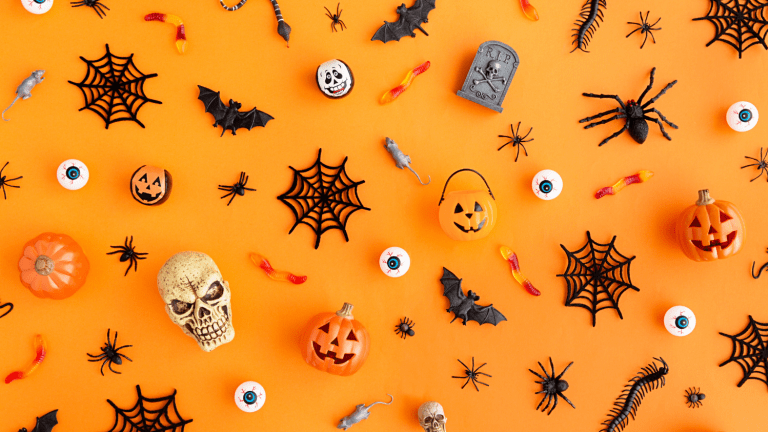 Spooktacular Ways to Save
We're sharing a few simple ways to save this Halloween with some help from CVS Pharmacy and the ExtraCare Rewards program.
I never really loved Halloween… and then I became a mom. Now, I'm obsessed with every pumpkin patch, every not-so-spooky book, every slightly scary movie, every creepy craft, every trick, every treat, and all the adorable costumes I want to force my kids to wear. Yes, October 31 is way better when you have little ones to enjoy it with.
Of course, all the seasonal essentials and activities can add up to make Halloween scary expensive too. Luckily, I turn to CVS and their amazing ExtraCare Rewards program for all our wicked-cool Halloween wants and needs. I know that I can save big on everything to help make the month festive and frightfully fun—no tricks, here.
Snag the Costumes Now
Gone are the days that I can pick costumes for my kids. At five and almost three, they've suddenly become quite opinionated. And as much as I'd love to make my duo dress as cuddly woodland creatures, I've got to relinquish the reigns! (And so Hulk and Butterfly it is for Halloween 2K17!) My suggestion: get the costumes now—don't wait, especially if your little ones are going for a popular choice (I'm lookin' at you Elsa). You'd be surprised how early in the month stores run low on options and sizes. Tis the season—get 'em while they're hot.
Tip: I don't dress up in a full costume on Halloween (except for that one time I went as Cookie Monster), but I do like to join the fun. A silly hair accessory, some over-the-top makeup, a mask, or a pointy witch hat make me the neighbor's "fun mom." I don't usually plan too far in advance—so I'll just snag something that catches my eye at my local CVS—they've got a plethora of options. I love knowing that I'm earning back 2 percent of every purchase I make every day to be redeemed back quarterly as Extra Bucks.
Stock Up on Projects
My kiddos are obsessed with arts and crafts. They love drawing and painting and gluing and cutting and taping and using all sorts of glitters and stickers and embellishments. Add a thematic holiday element to their artistic activities, and they are two very happy crafters. That's why I always keep a stock of new supplies at the ready.
Tip: CVS customizes my deals based on my purchasing patterns and history. They know I buy a lot of markers and pens and notebooks and paper—so I frequently get deals on these family favorites. It's a win-win!
Keep the Decorations Simple
Decorating is half the fun of Halloween, but I usually keep our scheme super simple with pumpkins, gourdes, haystacks, and a scarecrow. These items can easily transition from Halloween to harvest season and Thanksgiving—so I don't need to double up on decorations. I'll add one or two silly and spooky decorations to keep the kids happy for Halloween. CVS has some awesome and affordable options. I like to shop with the app in-hand. Once you find a deal you like, you can send it right to your ExtraCare card to be redeemed at the register. Better yet, I love that the app not only features CVS coupons, but also boasts manufacturers' coupons as well—so I can scroll through hundreds of deals and find several to send to my card.
Get Your Tricks and Treats
Whether you're going with traditional trick-or-treating candy or handing out stickers and pencils, you can find plenty of sweets, treats, and goodies at CVS. I like to do a mix of edible treats and fun trinkets for the kiddos in our community. And I always get a bag candy corn and some CVS Gold Emblem Abound popcorn for our Halloween movie night!
Tip: There are so many ways to save with CVS and the ExtraCare Rewards Program. Use the weekly ad, the app, and get deals sent straight to your inbox. The most recent round of Quarterly ExtraBucks were just released on Oct. 1—so you can redeem them now for all your must-have tricks and treats!
Capture the Halloween Memories
Don't let those adorable costume and pumpkin-patch pics sit on your phone forever. Get tangible photos printed right away at your local CVS. Many locations are able to print your order within an hour.
Tip: You can upload your favorite pictures straight to the CVS app from your phone's camera roll, Instagram, Facebook, or Flickr. It takes minutes—and you can have your photos in hand in no time at all. Now that's a treat!
WANT MORE FROM MOMTRENDS?
PIN IT!
Be sure to follow Momtrends on Pinterest and for more spooky inspiration follow our Halloween and Thanksgiving Boards here. 
This is a sponsored post.