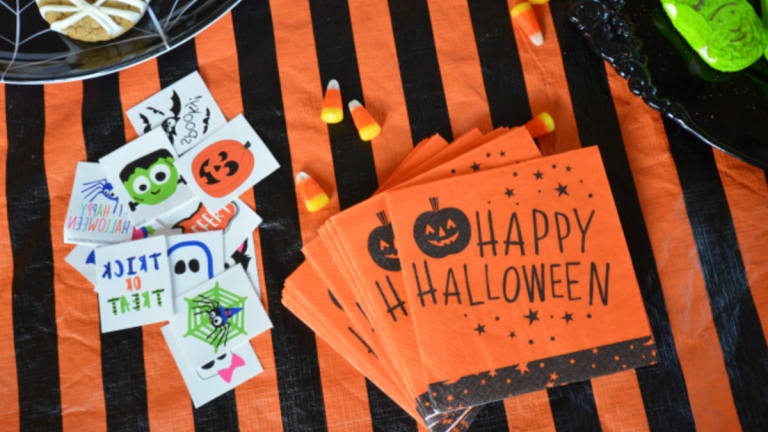 Host a Frightfully Fun Halloween Party for Kids
Host a Frightfully fun and absolutely adorable Halloween party for kids--complete with spooky snacks, candy corn cocoa, and bat crafts.
Halloween is such a fun holiday. Full of tricks and treats and good things to eat! We love creating and hosting an annual kid-friendly Halloween party. The kids always look so adorable dressed up in their costumes and we love dressing up too! We serve up spooky snacks, craft, and then curl up to binge eat candy while watching a good Halloween movie with the kids.
Related: Healthy Halloween inspired lunch ideas
Host a Frightfully Fun Halloween Party for Kids
Every time we go into a store, the kids want to shop in the Halloween section. I found these cute BOO balloons at Target and that striped tablecloth was in their value section.
A good kids' party always has something cute to eat or drink, and this party has both! Candy corn hot chocolate to warm you up and easy mummy cookies made from Pillsbury Perfectly Pumpkin cookie mix, piped on vanilla frosting and candy eyeballs.
We sweetened up the menu with a selection of ghost, pumpkin or Frankenstein peeps.
Candy Corn Hot Chocolate Recipe
3 cups whole milk
1.5 cups heavy cream
3/4 cup white chocolate
3/4 cup candy corn
Directions to make the Candy Corn Hot Chocolate
Heat all your ingredients in a crockpot on low for a few hours
Stir occasionally, or on the stove low to medium-low, stirring with a whisk until the chocolate and candy corn is dissolved. 
Finish it off with a Halloween Peep.
Candy Corn Hot Chocolate Recipe
Follow our simple video Instructions.
Halloween Kid Party - Bat Craft
We always like to do crafts for each holiday with the kids. This year the kids voted they wanted to make bats. I picked up this black glitter tree from Michael's that I knew would be perfect for our hanging bat craft.
Supplies:
toilet paper roll
black paint
construction paper or card stock, black and white
pipe cleaners, black
google eyes
glue
First, paint the toilet paper rolls black and let them dry. Then, fold down one side to make "ears." Next, to make bat wings cut out wing shapes similar to this on black paper. From the tip, fold 3 times to create movement in the wings. Lastly, glue on googly eyes and small triangles as fangs.
For feet - cut 1 pipe cleaner in half. Cut about 1 inch off each half side and twist the small piece around the longer piece to make the feet. Use a hot-glue to attach the legs inside the bat.
The kids loved celebrating at our Halloween Kid Party. Not too spooky with just the right amount of fun! We finished off the night with some Halloween tattoos they could take home for later.
WANT MORE HALLOWEEN FROM MOMTRENDS?
PIN IT!
Be sure to follow Momtrends on Pinterest and for more spooky inspiration follow our Halloween and Thanksgiving Boards here. 
This is not a sponsored post.