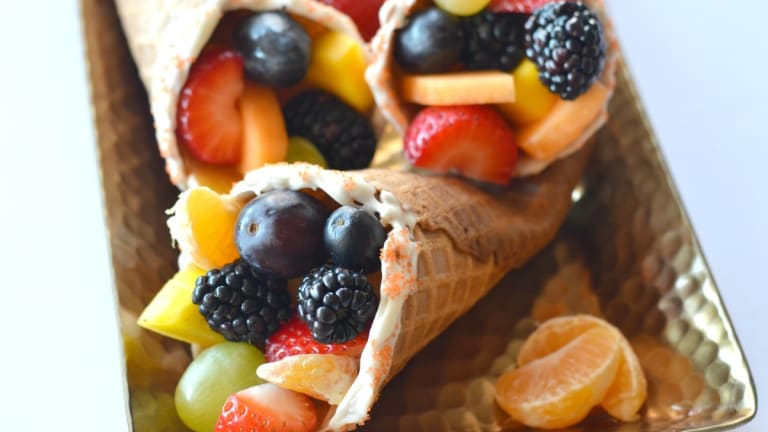 Publish date:
Fruit Cornucopias for Thanksgiving
I used to believe that pecan and pumpkin pies were the only desserts you could serve for a Thanksgiving feast. But, throughout my years eating and hosting Thanksgiving dinners, I've changed my mind. These fresh-fruit cornucopias make a healthy yet festive addition to any Thanksgiving dessert table.
Fruit Cornucopias
Waffle cones
white chocolate chips
sprinkles
assorted fresh fruit
The first step is to make the ends of your waffle cones curved like a cornucopia. First, I dunked the ends of the cones into a bowl of water for a few seconds. Then, I microwaved the cone for about 20 seconds to soften it (timing might vary depending on your microwave, so be careful you don't start burning it).
Next, using a towel to prevent your hands from burning, gently mold the end of the warm cone upwards into a bit of a curl. Let it cool.
Microwave a bowl of white chocolate chips. I dipped my waffle cones into the white chocolate and then sprinkled them with some orange sprinkles for a fun touch.

Sleep hack to give moms a more restful night
Looking for a life hack to get better sleep? Here's my go-to sleep hack to give moms a more restful night: get better pillows. Thanks to perimenopause, my sleep has been interrupted and I was finding it hard to get back to sleep after my 3am wake-up. I lowered the temperature in ...read more
Our Best Brow Tips
If you've been on TikTok at all in the past couple of years, you know that full brows are where it's at. Sure, the 90s are back, but thankfully, the kids left that decade's overplucked brows trend good and buried. Now even if you don't have the naturally full brows you once did, ...read more
5 Pretty Ways To Organize Your Jewelry
I admit - I'm guilt. Despite my best efforts, my "jewelry drawer" has become a tangled mess of necklaces, bracelets and earrings. This cluttered collection not only makes it hard to see what I have, but difficult to untangle the pieces I do want to wear! This summer, I'm ...read more
I let my cones dry on wire racks. This also gave the chocolate time to re-harden.
Lastly, I filled each cornucopia with fresh fruit. I used slices of mango, cantaloupe, clementine, strawberries, blackberries, and red, and green grapes. Feel free to use whatever fruit you like the best, but make sure you have a variety of pretty colors. That will really make your display pop.
The kids will love these as a fun snack in the days leading up to Thanksgiving. Once the cornucopias have been made the kids will love helping fill them with a harvest of fresh fruit.
While you're eating your fresh-fruit cornucopias you can be filling out our ABC Thankful Printable.
To help you prepare for Thanksgiving check out our favorite posts:
For more Fall crafting fun, check out our how to "Gobble Up" these fun turkey treats for kids.
Pin it! 
Use pinterest to save your favorite crafts. Be sure to follow our Thanksgiving and Halloween Crafts Board.
This is not a sponsored post.