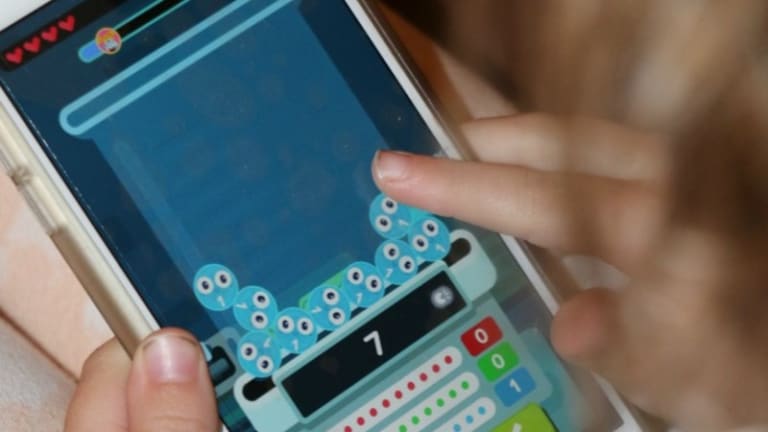 Fight Summer Brain Drain with Zap Zap Kindergarten Math
We're talking about the fun new learning app Zap Zap Kindergarten Math and how it can help kids fight the dreaded summer brain drain!
I can't believe I'm about to say this, but...I, gulp, am going to have a kindergartner on my hands next month. That's right. My baby girl just turned five, graduated pre-k and is starting her elementary school education far too soon for mama's taste. Bwah! I feel like I was holding a sweet newborn in my arms just moments ago and now I have to send her off to school like the big girl that she is. That's ok. I'll get through it. Sob. And while I might be filled with trepidation about her first day, I certainly don't want her to be. 
Related: Camp mom activities for a summer at home
Thanks to our amazing pre-school I'm fully confident that she's prepared for kindergarten scholastically, but I don't want all that hard work her teachers put in the past couple of years to go to waste. So, I've been focusing on fighting summer brain drain during her break. And thanks to the new educational app, Zap Zap Kindergarten Math, that just got a whole lot easier.
Fight Summer Brain Drain with Zap Zap Kindergarten Math
Math doesn't come to my daughter as naturally as some of the other subjects she's studied. And, frankly, you could say the same for me. She really is a chip off the old block. Haha! And that's why we've been focusing on math a bit more this summer. With Zap Zap Kindergarten Math, which was created specifically for kindergarten age kiddos, she can practice common core concepts like number recognition, shapes and measurements, as well as adding and subtracting, all while enjoying a fun space theme. 
And she not only gets important math practice time in but, she receives affirming messages when she gets a question right which is great for her self confidence! It's just as important to me to foster a strong sense of self as it is academics, but I digress...
The Benefits of Zap Zap Kindergarten Math
So, if you too have been wondering how to fight the summer brain drain during your kids' vacation, I suggest that you add Zap Zap Kindergarten Math Adaptive Learning Game App to your kiddo's education arsenal. Now when my soon to be kindergartner asks for screen time, I can hand her this app without worry. I mean look at the smile it puts on her face. Nothing beats seeing your child enjoy learning!
To learn more about how Zap Zap Kindergarten Math can help your summer brain drain woes, head HERE. And don't forget to check out the Zap Zap Math site!
MORE KID-CENTRIC FUN FROM MOMTRENDS
PIN IT!
Need more ideas on what to do with the kids? Be sure to follow our Activities to Do with the Kids board on Pinterest here.
This is a sponsored post. All opinions expressed are our own.