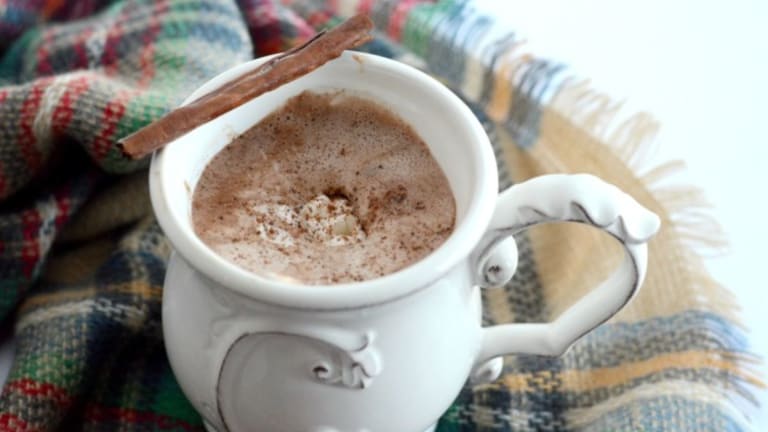 European Hot Chocolate Recipe
Recreate delicious, rich and creamy European Hot Chocolate for your family this year with our delicious recipe.
When we lived in Germany we went to a lot of festivals. One of our all time favorites was the chocolate festival that was held every winter in Germany. One of the first things we tasted when we arrived at the German Chocolate Festival was a big cup of their steaming hot chocolate. This hot chocolate wasn't like anything we had ever tasted before. It was like they melted a big chocolate bar right into our cup. Actually, we discovered they did! I decided to re-create that delicious, rich and creamy European Hot Chocolate recipe for my family this year. It's very decadent and practically a dessert in itself.
Related: Hot chocolate ideas for winter
European Hot Chocolate Ingredients
The Germans don't like too many sweets so for my recipe I used a Hershey's Special Dark bar. The extra large size (4.25 oz) makes enough for 2-3 people.
European Hot Chocolate Ingredients
First, roughly chop up your chocolate bar so it can melt easier.
Once the chocolate bar is chopped up, add it to a medium saucepan with 3/4 cups of milk and 1 teaspoon of vanilla.
Heat on low to prevent boiling and stir occasionally. I add in a dash of salt and a few sprinkles of cinnamon.
Meanwhile, in a stand mixer, mix 1.5 cups of heavy cream until thickened slightly. Add that to your chocolate mixture and heat through, without boiling.
The people at the hot chocolate festival in Germany had big trays of chopped up chocolate bars. And they would just add in handfuls of pure, rich chocolate.
I sometimes leave a little extra heavy cream in the stand mixer and keep mixing with a splash of vanilla and some sugar to make a homemade whip cream. Ladle into mugs and top with a dollop of your homemade whipped cream if desired. Enjoy!
This decadent European Hot Chocolate is perfect after some snow day activities or a day on the slopes! Check out the full recipe and other ski mom fun in the Family Ski Guide.
MORE HOLIDAYS FROM MOMTRENDS
PIN IT!
Use Pinterest to save your favorite gift ideas. Be sure to follow our Holiday Recipes and Crafts board here.
This is not a sponsored post.