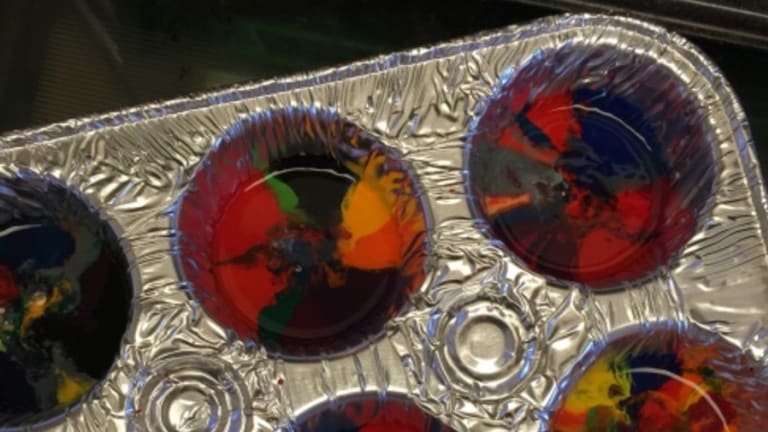 Educate and Inspire: Easy Earth-Day Crafts & Activities
Tomorrow is Earth Day. And we're marking the occasion by celebrating sustainable living and educating our little people about the major impact we all have on our planet—and talking about ways we can incite change and make a difference.
Related: Gardening with kids DIY raised garden
A few days ago, my son came home from preschool and told me all about how "things are born as other things" when you throw them in a special trash. It took me a second, and then I asked, "Are you talking about recycling?" He looked at me like I was the silliest person on Earth. "Yeah, mom, 'cycling!" I was so impressed. I was also a little ashamed. I've been rather lackadaisical about recycling in our home—what kind of a message am I teaching the next generation?
Since then, we've been talking about taking care of the earth and protecting Mother Nature. When my mini man brushes his teeth at night, he makes an effort to turn off the water off to conserve our resources. He's really taking it to heart, and I feel like it's my role to lead by example.
How to Recycle Crayons
We decided to kick off our Earth Day festivities a bit early around here with a fun upc-ycling craft. We have what seems like a million-and-one broken crayons littered around our house. Instead of throwing them out and buying new ones, we decided to create our own rainbow crayon patties. It was so fun and surprisingly easy! 
Break the crayon scraps into even smaller bits
Put assorted colors in each hole of a muffin tin. 
Bake at 250-degrees for about 10 minutes. 
Once the crayons are melted and blended, leave out to cool. 
Wait an hour and pop crayons out. 
Within the hour, they popped right out. (They look like rainbow Reese's peanut-butter cups!) My little guy was so excited to have "old new" crayons for his arts and crafts projects.
I've rounded up a few more awesome and easy Earth Day crafts for kiddies. I know my guy will be excited to embrace nature and enjoy his artistic side. (And those cookies are sure to be a hit too!)
1. Layers of Earth Play Dough via Playdough to Plato/ 2. Earth Day Hand Print via Teach Me Mommy/ 3. Bottle Cap Art via Suburbia Unwrapped/ 4. Leaf and Garden Impressions via Artful Parent/ 5. Earth Day Cookies via Munchkin Munchies/ 6. Toilet-Paper Roll Bird Feeder via The Resourceful Mama/ 7. Earth Day Popcorn and Cups via Simple as That Blog/ 8. Egg Carton Tree via Glued to My Crafts Blog/ 9. No-Mess Painting in a Bag Craft via Still Playing School
MORE KID-CENTRIC IDEAS FROM MOMTRENDS
Pin it!
Need more ideas on what to do with the kids? Be sure to follow our Activities to Do with the Kids board on Pinterest here.
This is not a sponsored post. It may contain affiliate links. All opinions are our own.