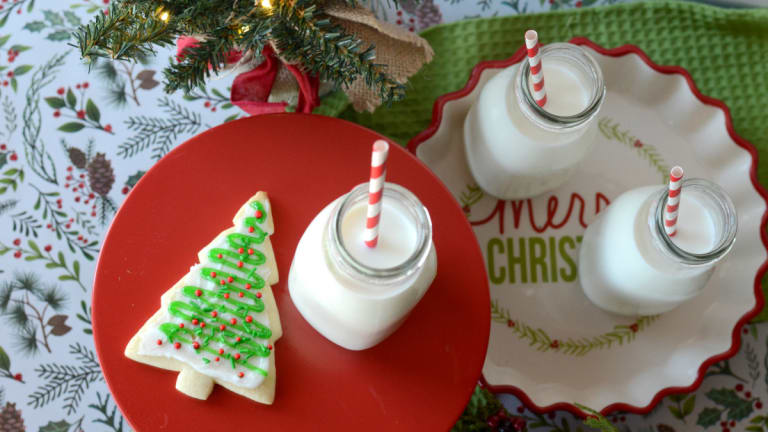 Easy Sugar Cookies for the Holidays
We're down to the wire. In less than a week, it'll be CHRISTMAS! My kids are beyond excited. One of our favorite family traditions through the holiday season is baking. Lots and lots of baking. We bake for our school, our local military base, our neighbors, our family and friends, and ourselves! And of course, we can't forget Santa. We bake for Santa every Christmas Eve too. These easy sugar cookies are perfect for your holiday baking!
Bake up a batch of these easy sugar cookies and make our Grinch ornament craft to help keep the kids entertained during their holiday break from school.
We do a lot of baking and we do it with love. One of our favorite recipes to bake at the holidays is this easy sugar cookie recipe. They make up a nice big batch and aren't complicated to make. The kids love them because they are simple and then, of course, we get to roll them out and use our cookie cutters to cut and create lots of different fun holiday shapes.
Easy Sugar Cookie Ingredients
Makes about 12-18 cookies depending on size.
1 stick of butter (1/2 cup) softened
1/2 cup sugar
1 egg
1 tsp vanilla extract
1 1/4 cup all purpose flour
1/2 tsp. baking powder
pinch of salt
Easy Sugar Cookie Recipe
Preheat your oven to 350 F
Mix together the butter, sugar, egg, and vanilla.
In a separate bowl, mix the dry ingredients (flour, salt, baking powder).
Slowly add in your dry ingredients into your wet ingredients.
Roll out your dough until about 1/4 inch thickness.
Use cookie cutters to cut out cookies.
Bake for 8-10 minutes. Cool on a wire rack.
Decorate as desired.
Baking tip: Roll your dough out between 2 pieces of parchment paper and pop into the freezer to harden for a few minutes before cutting out the shapes. This helps keep your dough from getting to soft and breaking when you're trying to use the cookie cutters.
Once the cookies are baked and cooled we use a variety of frostings and sprinkles to make a merry mess decorating the cookies.
We like to believe that Christmas calories don't count, right? Just do an extra lap around the stores when you're out doing your holiday shopping and you'll have less guilt indulging in a few of these delightful cookies that you and your kids will enjoy creating.
Wrap these cookies up in a pretty container with our FREE printable gift tags (also found in the Holiday Gift Guide) and you've got yourself a wonderfully sweet, homemade gift that the kids can be proud to give to loved ones.
For more holiday fun, get our movie trivia cards and make some reindeer food to set out on Christmas eve! These cookies are great for eating during Christmas movies, curled up wearing your favorite Christmas pajamas!
MORE HOLIDAYS FROM MOMTRENDS
PIN IT!
Use Pinterest to save your favorite gift ideas. Be sure to follow our Holiday Recipes and Crafts board here.
This is not a sponsored post.