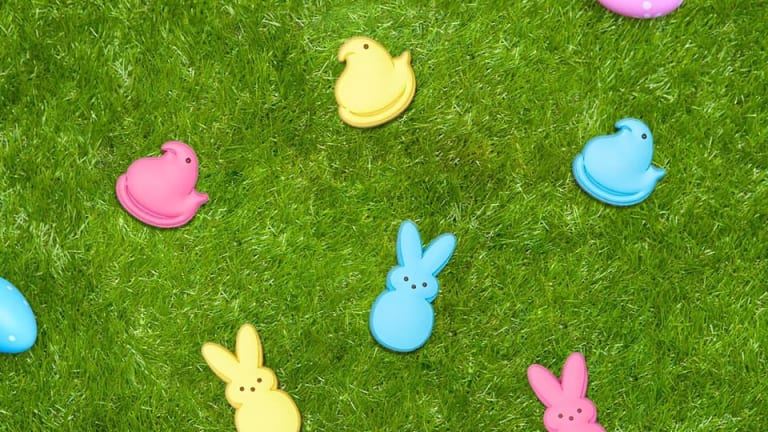 Easter Peep Cocktail Recipe The Peep-a-Booze
Try this Easter-themed Peep cocktail that makes the most of the colorful marshmallow treats we can't decide whether to love or hate.
Peeps... You either love 'em or hate 'em. (Seriously, I've never met anyone who is ambivalent about the colorful marshmallow treats.) if you like the look, but want to make it into something more adult, try this Easter-themed Peep cocktail.
Related: Craft Corner Easter Peep DIY Banner
Yes to Bunny Cocktails
My take? They're adorable little pillow-y bunnies of sugar—really, what's not to like?
Okay, fine, they sort of taste like nothing and have a weird granulated texture, but the cuteness factor trumps everything else. And they make for some super-fun holiday projects and edible crafts. Like these and these and this (oh, Pinterest, we heart you!).
But my favorite use for those neon nuggets of sweetness: cocktails! (Where my Peeps-lovin' peeps at now?) Who wouldn't want to sip a bright and potent Peep-a-Booze cocktail on Easter Sunday (or, you know, today?). I'm just saying—this recipe could convert even the most avid party pooper into a hard-core party peeper!
You can find multiple variations of a Peep martini online, but here's how I made mine:
The Peep-a-Booze Cocktail Recipe
2 parts marshmallow vodka (I used Pinnacle Marshmallow Vodka, but you can make your own Peeps-infused vodka too--just follow this recipe, but, of course, replace your candy hearts with Peeps!)
1 part champagne (or you can also use a flavored sparkling water--I just like the bubbles!)
Splash of grenadine for color (and extra sweetness!)
Cut a slit into the bottom of your bunny Peep (or two! or three!) for garnishing your glass
Enjoy!
MORE EASTER IDEAS FROM MOMTRENDS
PIN IT!
Use Pinterest to save your favorite entertaining ideas. Be sure to follow our Easter Pinterest board here.
This is not a sponsored post. All opinions are our own.