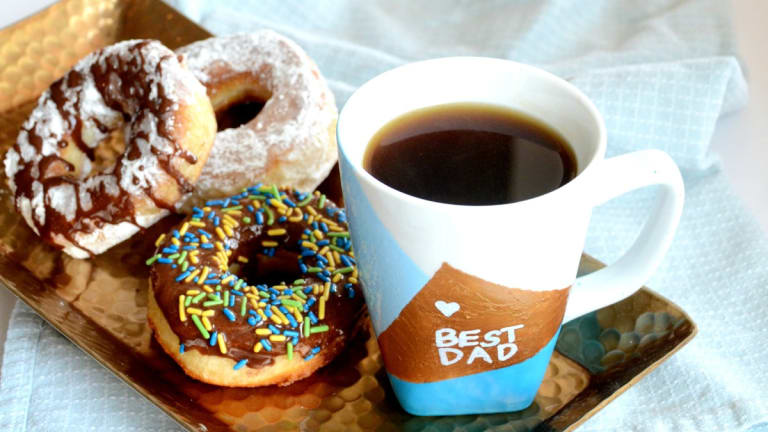 DIY Donut Mug for Dad
We made a DIY painted donut mug to serve Dad his coffee in on Father's Day.
Moms always get breakfast in bed on Mother's Day, so why not serve donuts to Dad on Father's Day? We thought it was a cute idea, so we made a DIY painted mug to serve Dad his coffee in on Father's Day. Check out this simple tutorial and get our easy donut recipe at the bottom of the post to complete your Father's Day breakfast!
Related: DIY Fathers Day terrarium craft
DIY Donut Mug for Dad Directions
To get started on your DIY Dad Mug gather your supplies. You can order them off of Amazon or pick them up at your local craft store.
Supplies:
White mug
acrylic paint
painters tape
foam brush
clear gloss spray paint
chalk pen
I kept my design clean and simple with geometric shapes and 3 of Dad's favorite colors. Use painters tape to mark off the areas to paint. Start at the bottom and work your way up. Do not paint the top 1 inch of the mug or inside, that's where your lips and coffee will go.

Personalize Your Mug
Once you've got a design you are happy with, let it dry completely. Write a sweet message, like "Best Dad" on top of your painted areas with a chalk pen. Once the whole mug is dry tape off the top and cover the inside with painters tape and give it a good spray with clear gloss to seal it.
Plan the Perfect Breakfast
Serve Dad these tasty apple cider donuts. Kids will love helping dip and decorate these donuts for Dad! Dad will love being treated to donuts and coffee in bed on Father's Day morning!
MORE FATHER'S DAY IDEAS FROM MOMTRENDS
PIN IT!
Use Pinterest to save your favorite ideas and organize your life. Be sure to follow our Fathers Day board here.
This is not a sponsored post. All opinions are our own.