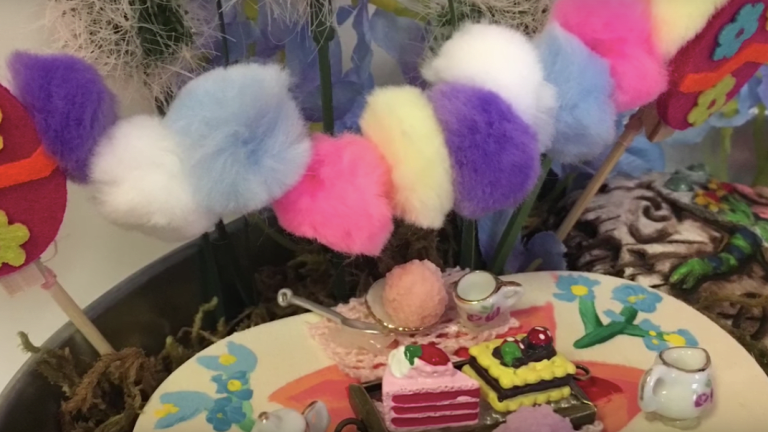 Fairy Gardens are a whimsical way to provoke creativity and add a little magic to your home. With some simple supplies (all found at the dollar store!) you can make a beautiful fairy garden for your spritely friends to have Easter brunch with you.
Related: Three free Easter printables
The best part about a Fairy Garden is that you can put literally whatever you want in it. For this one, I decorated a doll-house wooden table and added some fairy sized treats. I also made a pom pom banner with some Easter egg embellishments.
The only thing you absolutely have to have is a container of some sort. I suggest this dollar store pail that is already painted with flowers--score!

Five Tips for the Perfect Pumpkin Patch Visit
It's that time of the year again...pumpkin patch time! While I love a nice Pumpkin Spice Latte as much as the next fall lovin' girl...for me, the season is all about spending time with my family...and hopefully that time is spent outside as much as possible. If you're headed out ...read more
Perfect for Fall Pumpkin Spice Dirt Bomb Recipe
Get your pumpkin spice fix with this tasty dirt bomb recipe. Unlike fried donuts, this recipe is a little lighter and, since no hot oil is involved, a lot less messy. These dirt bombs, or baked donuts, are irresistible cakey muffins that are spiked with nutmeg and ginger, and ...read more
Save Money at a Ski Swap
Are the slopes in your future? If you want to save money on ski gear, consider a ski swap. A swap is a great way to buy and sell used equipment. Most swaps consist of a variety of gear, from brand new to used skis and snowboards to skis; from poles to boots to bindings and ...read more
Easter Fairy Garden DIY Tutorial
Check out the video for the full tutorial.
Easter Fairy Garden Materials
This craft is easily customized. All you need to start is a canister, tin or bucket to begin, a bit of grass or moss to fill the basket and the build  the fairy's living space. We used dried flowers, pompoms and doll furniture -- use that as inspiration. Painting is optional, we added this as a craft within a craft.
Tin, canister or basket
Grass or moss for filler
Glue gun
Sticks 
Accessories for the fairy's house (we suggest shopping in the dollhouse supplies).
Have fun creating a space and then wait for the fairies to arrive. Small toys like LEGOs can also be incorporated. Momtrends Tip: This craft can easily be set up for multiple children. It's perfect for Sunday school, or a brunch where you need kid activities.
MORE EASTER IDEAS FROM MOMTRENDS
PIN IT!
Use Pinterest to save your favorite entertaining ideas. Be sure to follow our Easter Pinterest board here.