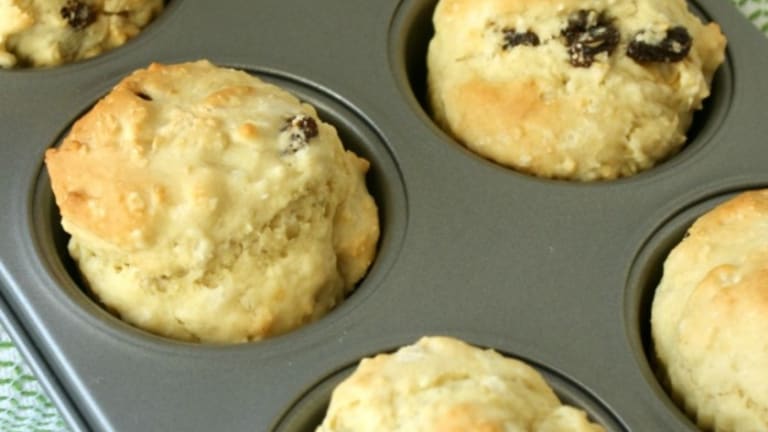 Delicious Irish Soda Bread Muffin Recipe
We're turning traditional Irish Soda Bread into muffins! These Irish Soda Bread muffins are kid friendly and delicious!
Everyone is Irish for St. Patrick's Day! We look forward to the arrival of Irish Soda Bread in our local bakery every year. It turns out that making your own is pretty easy! These Irish Soda Bread Muffins are just a miniature version of your classic St. Patrick's Day favorite. It takes the traditional Irish Soda bread out of the cast iron or loaf pan and into a muffin tin. This is the perfect recipe for a delicious Irish breakfast with some butter and jam or with your corned beef and cabbage.
Our kids love getting involved in the kitchen and these muffins made a great companion to them learning about the history behind St. Patrick's Day!
Related: 10 St. Patrick's Day treats for kids
Delicious Irish Soda Bread Muffin Recipe
Prep Time: 20 minutes
Cook Time: 20-30 minutes
Makes 18 muffins
Ingredients:
4 cups all purpose flour
3 tbsp sugar
1 tsp salt
1 tbsp baking powder
1 tsp baking soda
6 tbsp butter, diced into pieces
1 ½ cups raisins
1 egg, beaten
1 ½ cup buttermilk
Get the right supplies! 
Stock up on these supplies for your baking. Note: these are Amazon affiliate links.
Delicious Irish Soda Bread Muffin Directions
Preheat oven to 425 degrees.
Line a muffin tin with cupcake liners or butter and flour the cups.
Combine flour, sugar, salt, baking soda and baking powder in a large bowl.
Work the butter into the dry ingredients with two forks or even your fingers. 
Add raisins and combine.
In the middle of the mixture, add the egg and buttermilk.
Stir until combined.
Add another ½ cup of flour if you find the batter to be too sticky.
Using a cookie scoop, add 2 scoops of batter to the muffin tins.
Bake for about 20 minutes or until the muffins are golden and a toothpick comes out clean.
Buttermilk Hack
A quick note about using buttermilk: Chances are you do not keep buttermilk stocked in your fridge. No worries! Save time and money by making your own! Mix 1 ½ cup of milk with 3 tbsp and 1 ½ tsp of white vinegar or lemon juice.
Because these Irish Soda Bread muffins will dry out after a couple of days, you will want to serve them right away warm with some salted butter or your favorite jam.
MORE ST. PATRICK'S DAY FROM MOMTRENDS
PIN IT!
Use Pinterest to save your favorite crafts, menus and parties for St. Patrick's Day here on the Momtrends St. Patrick's Day Board.
This is not a sponsored post. All opinions are our own. This post DOES contain affiliate links.