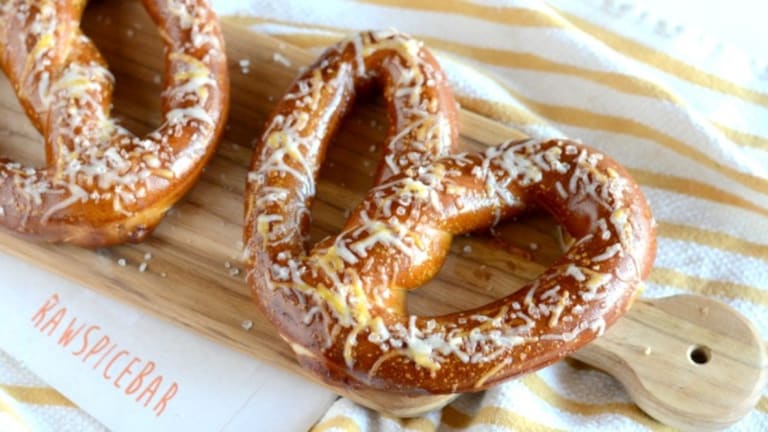 Delicious Caraway Cheese Soft Pretzels Recipe
These Caraway Cheese Soft Pretzels make a great snack and the kids love getting involved rolling the pretzel dough.
The holidays are here, and we're been enjoying all the seasonal eats and treats. To mix things up, we recently opened our Oktoberfest flavor kit from RawSpiceBar. Inside were 3 packages of spices to make your own German inspired dinner for the family. Of course, we cooked it all up, but my kids especially loved the Caraway Cheese Soft Pretzels. They made a great snack and they loved helping roll the pretzel dough.
Related: Best Pretzel Recipes
If you don't already know, RawSpiceBar is a monthly spice kit for as low as $6 a month. They offer globally inspired flavor kits to inspire the home cook. Just add your own fresh ingredients and create some amazing masterpieces. We loved the Malaysian Laksa too!
The Oktoberfest flavor kit contained 3 spice packages to make German Chicken Schnitzel, mustard braised cabbage and these delicious caraway cheese soft pretzels.
Caraway Cheese Soft Pretzels by Raw Spice Bar Ingredients
1 cup milk
1/3 cup butter
4 cups flour
2 tbsp sugar
kosher salt, 1 tbsp
baking soda, 1 tbsp
1 egg, mixed with 1 tbsp water
14 g dry active yeast
2 tbsp shredded cheese (optional)
Cheese Soft Pretzels Directions
First, in a small pot over medium-low heat, combine milk and butter. Stir until combined. Separately, sprinkle the yeast over the warm water in the bowl of a stand mixer or a large bowl. In a large bowl, combine flour, sugar, salt and RawSpiceBar's Caraway, Fennel & Anise.
Then, combine your wet ingredients with dry and knead dough in your bowl for about 10 minutes. Dough should be soft and almost sticky.
Divide dough into 8 pieces and shape each piece into a pretzel. The kids loved helping with this part. They loved getting their hands in the soft dough. It was like rolling play dough snakes! But, I had to help with the twisting and shaping though. That's harder than it looks. Props to bakers!
Lastly, cover pretzels with a dish towel and pretzels let them rise in a warm place, until doubled in size, about 1 hour.
Just before baking, brush pretzels with egg wash and sprinkle with cheese and sea salt.
Bake the pretzels for about 10 minutes at 485℉. Let your pretzels cool on a wire rack and then enjoy!
The Oktoberfest flavor kit was just what I need as the weather is getting cooler! Now, I need a big glass of German beer! For more Oktoberfest ideas head here.
MORE FROM MOMTRENDS
PIN IT!
Use Pinterest to save your favorite recipes ideas. Be sure to follow our Recipes to Inspire Board here.
This is not a sponsored post. We did receive samples to review. All opinions are our own.