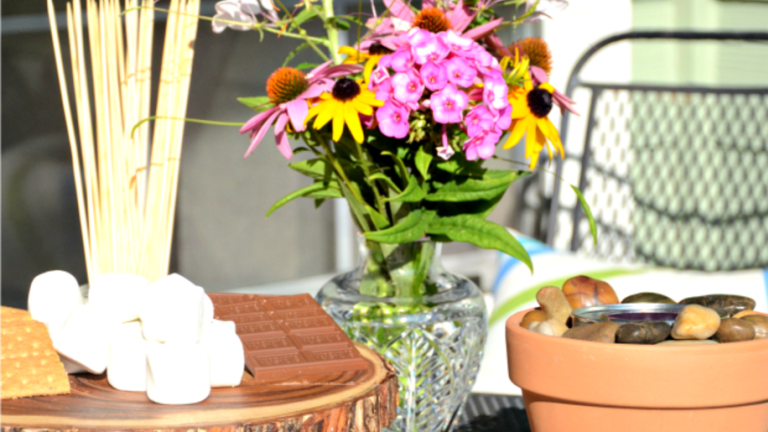 Create a Tabletop S'mores Bar with your Family This Summer!
Not going camping this summer? No problem! There is no camping required for our tabletop s'mores bar.
Nothing quite tastes like summer as much as s'mores!
As one of the most defining flavors and experiences of summer, Hershey's Milk Chocolate, marshmallows and graham crackers have brought families together for decades! While we love these fun s'mores recipes, we also like the classic 3-step recipe.
Not going camping this summer? No problem! There is no camping required for our tabletop s'mores bar.
Tabletop S'mores Bar
Our tabletop s'mores bar is perfect for patios or even indoors. My 6 year old loved it!
The set up is simple to do. Display your graham crackers, marshmallows and Hershey's Milk Chocolate on a pretty platter. I wanted my s'mores bar to have a rustic feel (even though we weren't camping) so I picked up a tree stump cake plate to display all the fixin's for our s'mores.
Setting a S'mores Family Table
I finished off the table with a bunch of wildflowers for some extra color and to bring even more outdoors to our tabletop smores bar.
I know you're wondering how we toasted our marshmallows. Don't worry, that was simple too. Since we weren't camping I created a "mini campfire" using river rocks, clay pots and a sterno can. I displayed bamboo kebab skewers in a mason jar that we used to toast our marshmallows over our mini campfire.
Toasting S'Mores to Perfection
At first our marshmallows got a little crispy if we weren't really careful. Turning the marshmallows slowly a few inches above the "mini campfire" gave us the best, slightly toasted results. Don't rush it unless you like slightly burnt marshmallows (I don't mind that).
Either way your marshmallow will be all warm and gooey and just right to smoosh between 2 graham crackers and warm and toasty enough to melt your Hershey's Milk Chocolate.
It was such ooey, gooey goodness! Mmm, s'mores!
Kids simply love making these tabletop s'mores and it was so simple to put together. A perfect summertime dessert even if you aren't camping.
And as if you needed a reason to make s'mores, National S'mores Day is August 10th.
MORE FUN FOOD IDEAS FROM MOMTRENDS
PIN IT!
Use pinterest to save your favorite family travel destinations to help inspire your next trip. Be sure to follow our Sweet Treats board here.