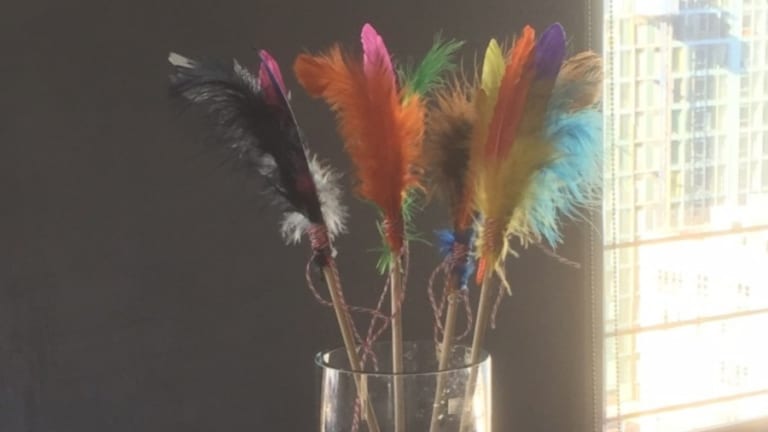 Craft Corner: Valentine's Day Arrows
Valentine's Day crafting instruction for making Cupid's arrows.
Can it really be time for Valentine's Day? I'm still putting away my December decorations, but that hasn't stopped me from dreaming up projects for the next holiday. Instead of going the traditional route with hearts, roses, and bows, I did a fun take on a Cupid's arrow craft.
Craft Corner: Valentine's Day Arrows Materials
Dowels (sticks, paper straws, or chopsticks)
A hot glue gun
Scissors
Feathers
Card stock
Baker's Twine (optional)
Bone folder (optional)
Craft Corner: Valentine's Day Arrows Directions
First, add hot glue to one end of the dowel. Then place some feathers (I liked mixing and matching colors and types, but a monochromatic look could be gorgeous!) around the edges of the dowel.
Next you're going to make the arrow head. You can do a pointed tip or a heart shape if you want to make it a little more whimsical. To do the triangle tip, cut two triangles from the card stock. Use the bone folder or a butter knife to make a line going from the point of the triangle to the middle. This creates a nice edge which adds dimension to your arrow head. Gently fold along the crease.
Add more hot glue to the opposite end of the dowel and carefully place your two arrow head pieces on either side so that they line up with one another. (The dowel should be sandwiched in the middle)
For the finishing touch, wrap some bakery's twine around the feathered end. You could also add some washi tape in the middle to give it a tribal feel.
If you like this craft and can't wait to do more projects with me, please subscribe to our YouTube channel and leave a comment if you have an idea for our next craft.
Valentine's Day Arrows Tutorial
Check out the video for complete tips on how to create this fun craft!
MORE WAYS TO MAKE IT A HAPPY VALENTINE'S DAY!
PIN IT!
Be sure to follow our Valentines board and pin your favorite ideas.