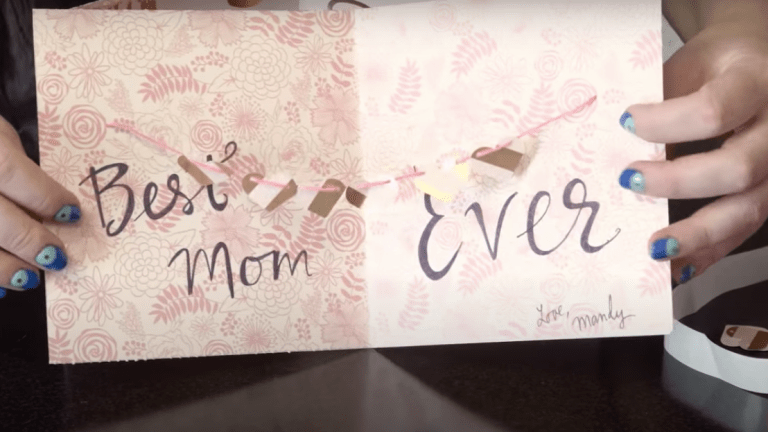 Craft a Mother's Day Banner Card
The thought really does count making a beautiful card will speak for itself to show mom your love.
Every child knows that for Mother's Day, Mom AT LEAST gets a card. Hopefully you've grown up with that tradition and still hold onto it. Nothing beats a handmade card. Even if you aren't so much for written sentiments, making a beautiful card will speak for itself. This particular one features a banner on the inside---it's so easy to make, you'll want to add them to every card you send!
Mother's Day Banner Card Craft
This is a year where it means so much to give a bit of a heart. Spending time to create something from scratch will show your mom just how you feel about her. This craft doesn't require a ton of supplies, just time and creativity.
Here's what you'll need:
Pretty card stock
Thread
Mini Hole Punch
Confetti punches
Glue dots
*Bone folder* (optional, but makes excellent folds!)
More About Our Love of Bone Folders
You've probably heard me gush about bone folders. They're tools designed to help you create perfect creases. I always use them when working with card stock so that I can achieve professional edges.
We think once you have a bone folder you won't know how you lived without it.
You can add multiple banners in one card like this one---I added washi tape to the back and my phrase banner in the front. Once you get the concept, you can add touches that make it your own.
Craft a Mother's Day Banner Card Video Instructions
Sometimes videos can really bring a craft alive. Watch the full tutorial here and have a happy Mother's Day:

MORE MOTHER'S DAY INSPIRATION
PIN IT!
Save your favorite ideas to Pinterest. Be Sure to follow our Mother's Day board here.
Momtrends was not paid for this post