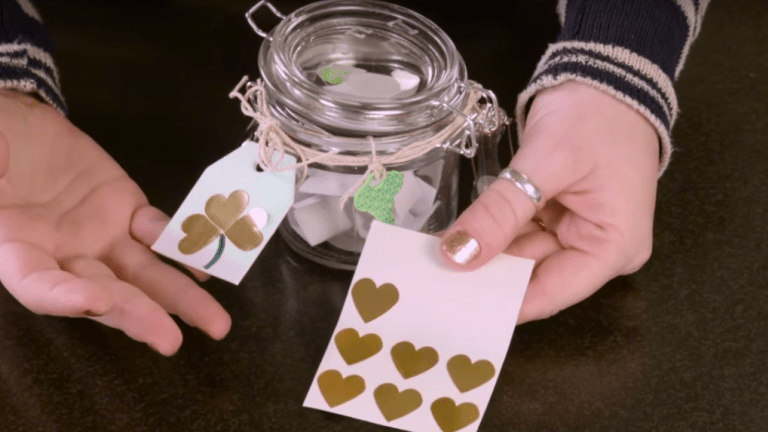 Feeling the luck-o-the-Irish? For this Craft Corner, we are bringing in a new technique called glass etching. It's not as complicated as it sounds, but it does require some patience and gloves. We're creating a sweet Lucky Shamrock Jar with printable for St. Patrick's Day.
Related: DIY craft a lucky bottle necklace for St. Patrick's Day. 
 Lucky Shamrock Jar Craft Materials
To create this craft you'll need.
Etching cream and a brush
Stencils
A mason jar or glass container
Lucky do-dads
I spelled out "LUCK" on top of my jar and added little items that have brought me luck. You can add anything you like---get the kiddos involved and have them choose things that they think are lucky. Then cut out the questions on the printable and place them inside. Have fun choosing one each day to talk about with your family. It's a creative way to get your kids talking while encouraging their imaginations. 

Save Money at a Ski Swap
Are the slopes in your future? If you want o save money on ski gear, consider a ski swap.  Connecticut  Ski Sundown SKI SWAP 2021. The Sundown Ski Patrol Ski Swap is one of New England's largest and longest-running swaps. Held in the Ski Sundown base lodge, you'll find a large ...read more
The Ten Best Wooden Play Kitchens For Kids
Cooking is a timeless fascination for children. This type of play goes beyond gender and teaches kids loads of life skills along the way. An investment in a play kitchen is money well spent, as it can provide hours of entertainment. We've rounded up the ten best wooden play ...read more
New Victory Announces a New Season of Shows
We know you're busy planning picnics and summer outings, but we wanted to let you know that The New Victory just announced their new season and it looks fantastic. We thought you'd like a sneak peek of what's in store! Each year the New Vic theater brings culture to tourists and ...read more
Download FREE St. Patrick's printable here
Lucky Shamrock Jar Craft Instructions
MORE ST. PATRICK'S DAY FROM MOMTRENDS
PIN IT!
Use Pinterest to save your favorite crafts, menus and parties for St. Patrick's Day here on the Momtrends St. Patrick's Day Board.