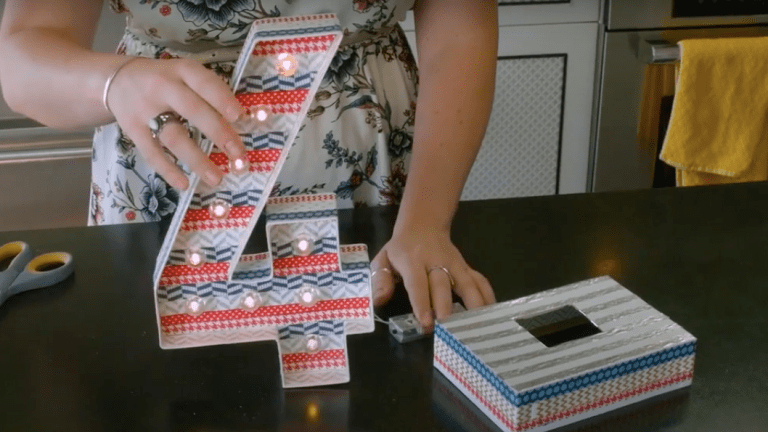 Craft Corner: Fourth of July Marquee Letter
Washi tape craft for the 4th of July. With our easy to follow tutorial you'll create a fun patriotic display.
Happy summer, crafters! It's time to start getting out your red, white, and blue materials because here is a fun craft you're going to want to display for your Fourth of July celebrations.
Related: DIY 4th of July flower bouquet
Fourth of July Marquee Letter Materials
Cardboard Box (I used an old Birch Box)
Choose some fun patterned washis to go around your number "4." Cut smaller pieces to get into the nooks and crannies. Take out the template provided and cover that with washi too. Use a crafting knife to cut into the designated holes if you covered them over.
How to display your Fourth of July Marquee Letter
Put the template back into the marquee letter and add the lights and knobs. The Heidi Swapp collection even has fancier bulb caps if you really want to make your number sparkle. 
If you're not hanging your finished 4 on the wall, you might want to make a stand to keep it from falling over.
Take a cardboard box (like a BirchBox) and measure a hole. Cut into it with a craft knife and cover the box with washi. Place the battery pack to the lights inside and then adjust the 4 into the hole. Now you have a gorgeous centerpiece! Watch our video for the full instructions.
Craft Corner: Fourth of July Marquee Letter Instructions
Follow along on our Youtube channel here
MORE 4TH OF JULY IDEAS FROM MOMTRENDS
PIN IT!
Use Pinterest to save your favorite ideas for summer fun. Be sure to follow our 4th-of-July board for more inspiration.
This is not a sponsored post.