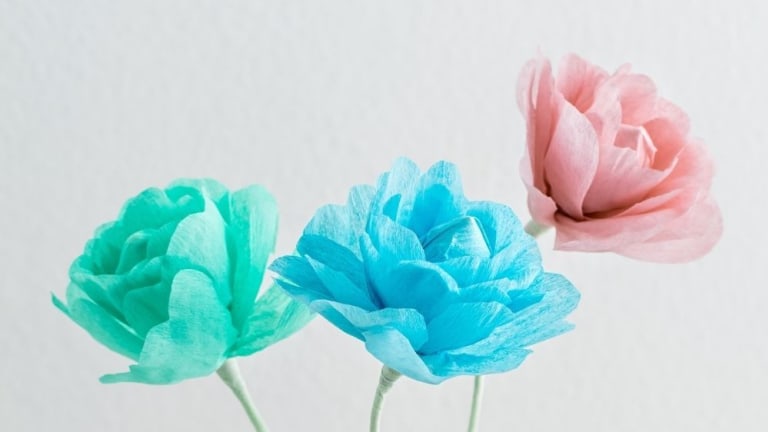 Publish date:
Celebrate Spring With This Giant Crepe Flower Craft
This crepe flower craft is a perfect way to celebrate the start of spring--plus it's so easy to do! We've got the whole tutorial here!
This crepe flower craft is a perfect way to celebrate the start of spring--plus it's so easy to do! We've got the whole tutorial here!
Give a friend a flower she doesn't have to water! These crepe paper flowers are perfect decorations and provide lots of fun as props in photos. We're going to give you step by step instructions on this project so you can celebrate spring with giant crepe flowers.
Related: 6 spring crafts for kids 
Giant Crepe Flower Craft Materials
To make these gorgeous crepe paper flowers, you will need:
A dowel (chopstick, paintbrush, or pencil)
Crepe paper
Green duct tape or floral tape
Hot glue gun
Crafting tip: If you've never worked with crepe paper before, aside from stringing up strands of it at birthday parties, it is important to note that cutting your flower petals in a certain way does matter. Make sure that the striations in the paper are going vertically, not horizontally.

Amazing Breastfeeding Accessories for Mom
As a breastfeeding mama I'm always on the lookout for stylish and functional accessories. Chewbeads and NuRoo offer moms products that pull double duty! Add an extra layer of style while also keeping it functional with Chewbeads necklaces and NuRoo nursing scarves. Both of ...read more
Gender Neutral Nursery Color Schemes
Your family is about to bring a new person into the world, and you want to share a bright, open and welcoming world with your little one. Leave the stereotypes and generalizations behind and let your child enjoy a warm, loving nursery decorated thoughtfully by you and your ...read more
Create a Farm Themed Gender Neutral Nursery
The farmhouse chic trend is taking over nursery design and we couldn't be more thrilled. I'm over the overtly showy rooms filled with glitz and glam. This return to sweetness and simplicity feels just right. One of our favorite homewares shop, West Elm, has created the ultimate ...read more
Steps for Creating Giant Crepe Paper Flower
Freehand cut out flower petals from the crepe paper
Pull along the top of the petal and stretch out the top.
Add a line of glue along the bottom edge and fold the bottom edges in together. 
Add glue to end of dowel. Wrap the bottom edge of the petal to the dowel. You've now created the center of your flower.
Repeat steps 1-4 until you are satisfied with the shape of your flower.
Fluff out the petals to desired shape.
Cover dowel and base of petals with green duct tape or green floral tape for the stem.
Use different colors to create a bouquet effect. This craft is perfect for party decor and is a fun and easy rainy day spring project for kids.
Get the instructions:
If you can't picture what I'm talking about from the instructions, watch the video tutorial for details.
MORE KID-CENTRIC FUN FROM MOMTRENDS
PIN IT!
Need more ideas on what to do with the kids? Be sure to follow our Activities to Do with the Kids board on Pinterest here.
Momtrends was not paid for this post.