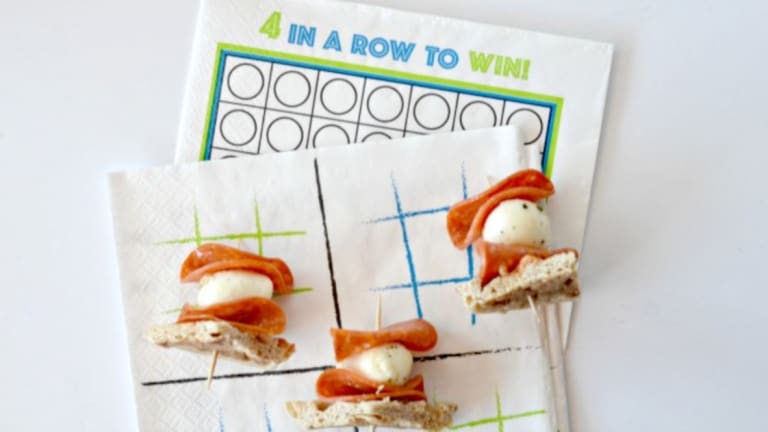 Tips on How to Pack a Cool School Lunch!
Sharing some mom-friendly tips on how you can pack a cool school lunch in a flash.
It's back-to-school time! My mornings consist of packing school lunches while my afternoons are spent helping with homework and after-school activities. To save money, and to ensure that my daughter is getting a well-balanced lunch, I pack her lunch almost daily. Today, I'm sharing some tips on how you can pack a cool school lunch.
Related: 5 ways to put a positive spin on back to school
Let's break down this cool school lunch and how you can easily and quickly pull it together for your kind.
Cool School Lunch Recipe
First thing you need for your cool school lunch is some awesome food to wow the kids. Sandwiches are my go-to, but those can get boring really quickly. There is something about food on a stick that kids just love. These mini pizza kebabs are sure to make your packed school lunch just that little bit cooler. Cut an English muffin in half and then quarters. First, skewer your English muffin on a toothpick, a folded over pepperoni, mozzarella ball, and lastly one more folded pepperoni.
I like using the Munchkin bento lunch box because of its compartments with lids; and it comes with a cute fork and spoon that clip into the lid. Send your mini pizza kebabs with a small cup of mixed fruit, cucumbers and ranch, and a small portion of cranberries, half covered with yogurt and half coated in milk chocolate.
Cool Lunch Box (pun intended)
This year, we discovered Packit lunch boxes. This lunchbox is great because it removes the need for ice packs. Packit Cool lunch boxes have ice packs built into the sides. All you have to do is freeze the whole lunchbox overnight and it's ready to go the next day. We have the classic lunchbox in polka dot as well as
Cute Napkins
Don't forget the napkins. Napkids are cute napkins that make lunchtime fun. Choose between a note version or games like tic tac toe and connect 4, and tuck one inside their lunchbox for a sweet surprise. We also love these sweet cloth napkins we found on Amazon.
Refillable Drink Box
Drink in the Box is the only refillable drink box we've found. Fill it up with your kiddo's favorite drink and once the lid is on it's leak proof. Better than a juice box for so many reasons!
With Drink in the Box you can fill it with any drink you choose. It's dishwasher safe so it cuts down on waste because you reuse the same container each day.
MORE BACK TO SCHOOL ORGANIZATION FROM MOMTRENDS
PIN IT!
Use Pinterest to save your favorite recipes. Be sure to follow our Back to School board for more tips
This is not a sponsored post. We did receive some samples to review.