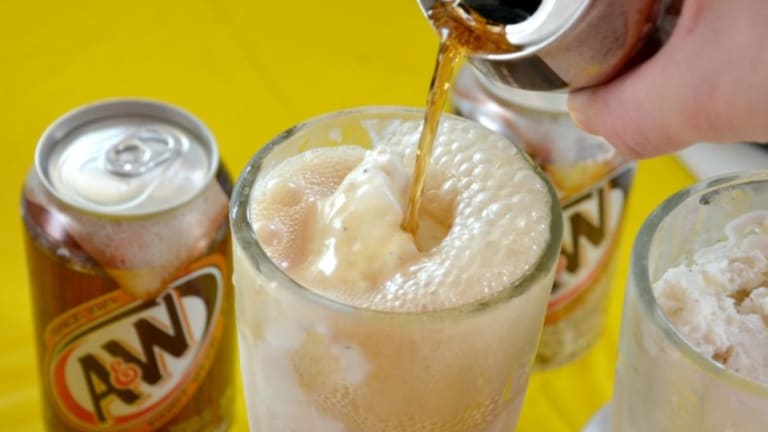 Classic Root Beer Float Recipe
Creating root beer floats, and getting ready to celebrate National Root Beer Float Day with our kids!
Today, we're frosting our glasses, cracking open our favorite A&W root beer, creating root beer floats, and getting ready to celebrate National Root Beer Float Day (tomorrow, August 6th) with our kids!
A root beer float is a classic treat that instantly takes me back to my childhood. I can still remember the first time I had my first-ever root beer float. I was around 11 or 12 years old, and it was one of the first sleepovers I can remember going to at a friend's house. After the traditional pizza dinner, my friend's dad made us all root beer floats for dessert. Now, every time I have a root beer float I get giddy inside like that tween back in the '90s. For me, it's like childhood in a glass, and it's something I'm excited to share with my kids!
Create the Perfect Root Beer Float
First, I like to start by frosting my glasses. To frost my glasses I run them under cool water for a minute—both the inside and out—and stick them in the freezer for a few hours. Then, I add a few scoops of your favorite vanilla ice cream. Our family prefers vanilla bean.
Next, I pour in my favorite root beer. We almost always keep a 12-pack of A&W root beer in the pantry. It's a classic favorite with it's signature taste—and I discovered during my last pregnancy that not only is it caffeine free, but they also offer a Diet option too.
If you want to feel extra fancy, you can purchase the IBC root beer in its distinctive brown glass bottle. Did you know that both A&W and IBC are both products in the Dr Pepper Snapple Group? I see Dr Pepper products everywhere, and I think it's because they have such a great variety of flavorful options to please everyone.
Lastly, any good root beer float needs a parfait spoon in addition to a straw to fully enjoy it. We like the extra-long spoons, and I'm a sucker for striped paper straws. They just add to the classic feel of the root beer float. I love those root beer float bubbles. That mixture of the spice from the root beer and sweetness from the ice cream, ahh childhood.
More from Momtrends
We've got a version for mom too! For the holidays, try this Boozy Root Beer Float.
Pin it!
Love the idea of making floats with the kids? Be sure to follow the Momtrends Kids' Activities board on Pinterest here.
This is not a sponsored post