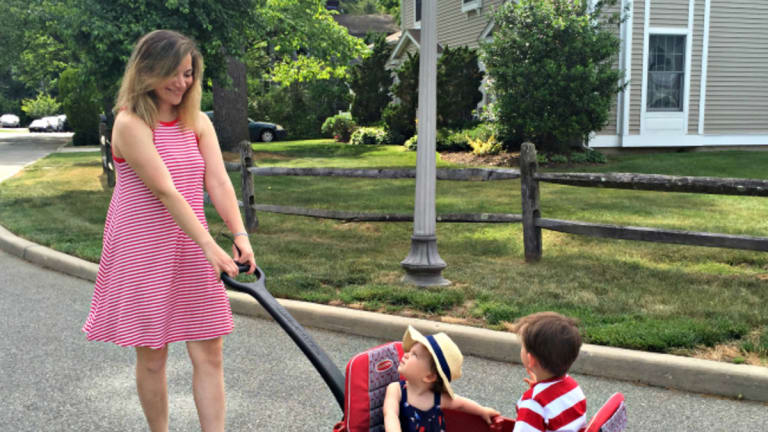 Classic Americana Style: The Season of Red, White, and Blue
Wearing red stripes is a way to look patriotic without literally resembling the American flag. Try this fun outfit.
What's red, white, and cute all over?
You got it... My babies! We're celebrating Memorial Day in style with our own patriotic fashion parade. Okay, fine, I'm taking the kids for a stroll around the neighborhood in their red Radio Flyer. The first of many summer wagon rides, I might add.
I've always been a fan of pairing either red and white or blue and white, and then subtly adding the third color—maybe with a pair of shoes, a headband, or even some statement jewelry. It's a way to look patriotic without literally resembling the American flag.
I'm in love with this striped sleeveless swing dress from Old Navy. It's so easy, breezy, and comfortable, and also incredibly flattering—if I do say so myself! I paired it with navy blue wedges from Payless. They're a few seasons old, but any platform espadrille will do! (Here's where I admit that I changed into a pair of Tom's for most of our walk. Safety over style, folks.)
A classic Americana look works all summer long—right through July Fourth and straight to Labor Day. It's my go-to for the season—bright and bold and proud. Picnic-appropriate, barbecue-approved, and pool-party-ready!
Of course, my littles are known to rock a few all-American outfits too. For Memorial Day, I dressed my son in a simple striped tee and denim shorts. (It doesn't get easier.) I had a bit more fun with my 18-month-old daughter's festive look. How sweet is her Old Navy Popsicle-print top? And those matching bloomers?!?! (Squeal!) My favorite accessory of all is definitely our Radio Flyer. I foresee many more mommy-and-me style parades coming in the next few weeks of summer!
To celebrate the season of red, white, and blue, I've rounded up some adorable Americana looks for Baby and Mama. Happy summering, friends!
MOMTRENDS 4TH OF JULY OUTFITS
PIN IT!
Use Pinterest to save your favorite ideas for summer fun. Be sure to follow our 4th-of-July board for more inspiration.
This is not a sponsored post. It may contain affiliate links. All opinions are our own.