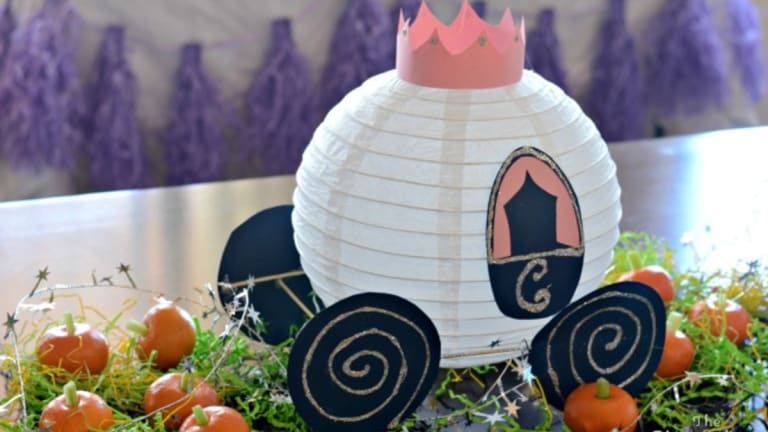 Cinderella's Royal Ball: Host a Magical Princess Party!
Here is a sneak peek into our Cinderella's Royal Ball and how we hosted a magical party fit for a princess.
Cinderella has always been a favorite princess of little girls. With the newest live action movie released earlier this year, we've fallen in love with Cinderella all over again.
Here is a sneak peek into our Cinderella's Royal Ball and how we hosted a magical party fit for a princess.
Bippity Boppity Boutique!
When your princess guests arrive direct them to the bippity boppity boutique table to get their jewels and prepare for the ball!
We set a big gold framed mirror in the middle of our beauty boutique table. Our table featured a topiary tree strung with faux pearl necklaces and a beautiful Cinderella doll from JCPenney for fairytale princess fashion inspiration.
Girls can choose rings, bracelets, hair barrettes and star wands that we got from the Cinderella 48 piece favor pack.
We also set up a mini manicure station with several sparkly and colorful nail polishes to choose from. Of course each girl got their own shiny tiara to complete the princess look.
Food for Cinderella Party
I'm a sucker for themed party food. I feel like it really adds to the fun feel of the party. Since our theme was Cinderella's Royal Ball we served some fancy tea party foods as well some cute Cinderella themed treats.
We had to have a few dainty tea party foods, something that might be served at a royal ball. I made mandarin orange tea cookies using sweet Halos. I made them into little clocks by piping 2 lines of black frosting to be the clock hands. For our tiny tea party sandwiches I found these shoe and crown cookie cutters and filled them with cream cheese and strawberry jam.
We made Cinderella's mice friends using strawberries, white chocolate chips, mini chocolate chips, black frosting and toothpicks.
Mini powdered donuts were perfect for "carriage wheels".
Cinderella's brooms were a savory treat of pretzel sticks and string cheese cut to look like a broom. Afterwards, my daughter told me that she thought they looked more like mops. Mops or brooms, poor Cinderella is always cleaning.
I almost always make a homemade cake or cupcakes to celebrate and this party was no different. We made our cupcakes fancy by adding sugar pearls and topped them off with cinderella's glass slippers that were actually pencil sharpeners!
Centerpiece for Cinderella's Royal Ball Princess Party
For our centerpiece on the table we made a pumpkin patch and Cinderella's carriage for the middle.
Cinderella's Carriage Centerpiece Craft
Supplies:
1 white paper lantern
kebab skewers
paper
hot glue
glitter
scissors
Directions:
Put together your paper lantern and cut 4 paper circles to be the wheels. I decorated my wheels with glue and silver glitter.
Make a frame for your 4 wheels using hot glue and kebab skewers cut to size.
Create a door for your carriage using paper, glitter, jewels etc. Glue onto your paper lantern.
Create crown for the top of your carriage using paper and glitter. Hot glue to the top.
Place your lantern into your wheel frame. Glue if desired (I didn't)
Create a pumpkin patch (see below) for your Cinderella carriage to sit in.
I made our pumpkin patch by using shredded green and yellow paper and making our pumpkins using Halos mandarin oranges with celery pieces as the stems. We twisted a silver star garland around for a touch of magic. I love the way it turned out!
I made a clock out of a paper fan decoration and freehand drew clock hands and glued them on. It's almost midnight!
I wanted some fancy cups for our little princesses to drink out of, but were also trying to keep it in a budget. I didn't want to splurge on fancy princess cups so I made my own with a little glitter and glue.
I used plastic wine goblets and coated the bottoms in glue and sprinkled with with fine silver glitter. Ball goblets fit for a princess!
Cinderella Party Pumpkin Craft
For a fun craft we set up a decorate your own pumpkin carriage craft table. I used mini artificial pumpkins you can find in the floral section of craft stores. Mine were from Michael's and dollar store pumpkins I had left over from Halloween.
Put out paint, glitter, jewels, pearls, sparkly pipe cleaners etc. Sit back and let the little princesses go to town creating their own fancy pumpkin carriages!
This Cinderella party is magical and fun! Have princess music playing in the background so princesses can dance and twirl. Bonus points if you can get all your guests to come dressed in princess costumes!
To host your own Cinderella inspired royal ball, here is our shopping list of party supplies we used in our Cinderella party.
Shopping Details:
More Birthday Parties from Momtrends
Pin it!
Be sure to follow our Kids Birthday Party board on Pinterest for more party inspiration.
This post contains affiliate links. Thank you for your support.