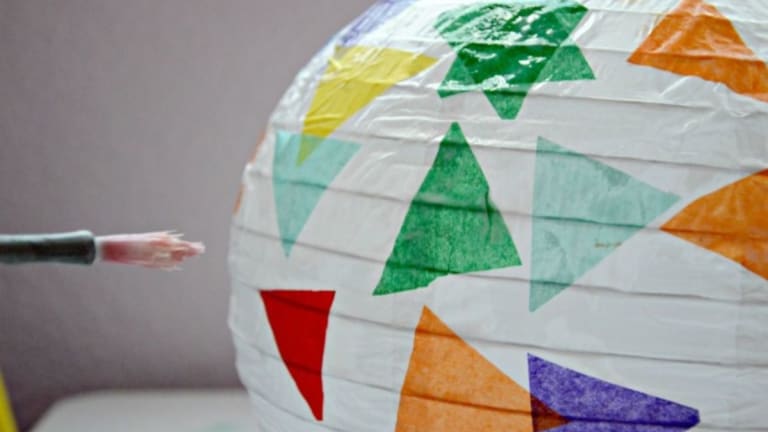 Celebrate With Kids Around The World: St Martin's Lantern Festival
You can celebrate St Martin's Day with you kids by creating your own paper lantern.
We lived in Germany for a few years, and it was wonderful. While we were there, we learned lots of things about Germany and celebrated new holidays. One of our favorite German holidays to celebrate was St. Martin's Day or Lanternenumzug.
Related: Celebrate with kids around the world dia de muertos
Celebrate With Kids Around The World: St Martin's Day
What is St. Martin's Day
St. Martin's day is also know as Lanternenumzug, the feast of St. Martin, Martinstag, or Martinmas. The story of St. Martin is that he was a knight in the Roman times. He saw a cold beggar on the streets. Because the beggar was so cold St. Martin cut his cloak into 2 pieces with his sword and offered half to the beggar.
When is St. Martin's Day
St Martin's Day is celebrated on November 11, 2015. It's celebrated like a harvest festival much like the American Thanksgiving. It marks the end of autumn and the beginning of winter. It's often celebrated at the 11th second of the 11th minute of the 11th day.
Where is St. Martin's Day Celebrated
St. Martin's Day is celebrated in Germany but it originated in France and spread to other European countries. Kids often celebrate St Martin's day by having a lantern procession. They make lanterns and parade down the streets singing traditional songs.
How to Celebrate St. Martin's Day
You can celebrate St Martin's Day with you kids by creating your own paper lantern.
St. Martin's Day Paper Lantern Craft for Kids
Supplies:
paper lanterns ( I found these in the party section of Target)
colorful tissue paper
scissors
glue
paintbrushes
glowsticks or battery operated candles
I made triangles out of the tissue paper for the kids to make geometric patterns with. I cut strips of the tissue paper (a few layers at a time) and then cut into small triangles.
Mix your glue with a little bit of water to make it a little easier to work with on the paper lantern and with the fragile tissue paper.

Let the kids paint on the glue and stick on their paper triangles to create colorful patterns.
Let your lanterns dry. We let ours sit overnight. Once they are dry you can hang glowsticks inside or tape a small piece of paper in the bottom and place a battery operated candle.
We found that our glowsticks were too small to really create the glow we wanted so we added the candles to ours to make them brighter.
Once the sun goes down encourage the kids to go outside and create their own lantern parade.
Sing some Songs
Here is a great video with the song and words to a traditional St Martin's Day song.

Here are some of the lyrics
German:
Ich geh mit meiner Laterne
Und meine Laterne mit mir.
Dort oben leuchten die Sterne
Und unten leuchten wir.
Mein Licht ist aus,
Ich geh nach Haus,
Rabimmel, rabammel, rabum.
English translation:
I walk with my lantern,
And my lantern with me.
There above, the stars shine,
And we shine here below.
My light is off,
I go home,
Rabimmel, rabammel, rabum.
MORE GLOBALLY-INSPIRED CELEBRATIONS FOR KIDS FROM MOMTRENDS:
PIN IT!
Use Pinterest to save your favorite family travel destinations to help inspire your next trip. Be sure to follow our Travel with Kids board here.
This is not a sponsored post.