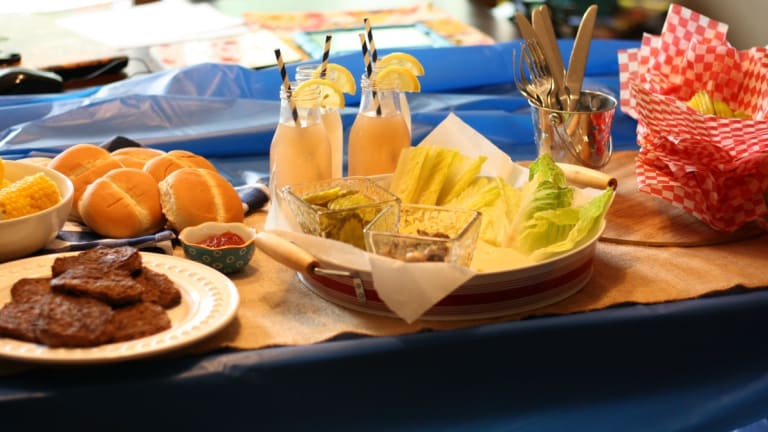 How to Create a Build Your Own Burger Bar
There's nothing better in the summer than an awesome BBQ with friends! Creating a Build Your Own Burger Bar is a fun way for your guests to get creative with their burger!
A burger bar is a fun way to keep your BBQ simple and to turn dinner into a casual party. Giving your family or guests lots of options for toppings and condiments keeps everyone happy. Now that more and more families are staying in, this is the type of meal that feels special. If you are hosting, have your guests bring a dessert or fruit, and you worry about everything else.
Start with the Burger
A good burger bar starts with a great burger! Be sure to use a good ground meat. Seasoning the burgers is also key to making a burger bar feel more festive.
Next comes creating those delicious burgers! This is the perfect time for your guests to play around with different flavors and ideas.
Mix: Combine your ground beef with seasoning. At the very least you will want coarse salt and pepper (some people like to get spicy here and add in cajun mixes, Southwestern spices, etc.)  Don't overmix, as this will make the meat tough.
Create Balls: Start making the mix into into balls of equal weight and size. Tip: Dampen your hands with water to keep them from getting sticky.
Make patties: Once you have your balls created, it's time to flatten them into a grill-friendly shape. Gently press the balls down to flatten. Make sure patties are about 3/4″ thick on the edges and 1/2″ thick in the center.
Refrigerate: The meat needs to remain cold until you cook it.
Momtrends Grilling Tip: The safe and savory internal temperature for ground beef is 160°F.
Burger Bar Shopping List:
If you're making the hamburger patties from scratch, figure you will need 4 to 6 oz. of ground meat per patty (buy 80% fat, 20% lean, the more fat, the more flavor).  FYI 4oz equals about 1/2 of a pound and is what is normally used at fast casual restaurants. 
Here's how much you should plan to buy, if each patty is 6oz:
4 people – 24 oz. (1 1/3 lbs.)
6 people – 36 oz. (2 lbs.)
12 people – 68 oz. (4 lbs.)
20 people – 80 oz. (6 2/3 lbs.)
These same ratios will be used for turkey burgers and veggie burgers.
Some of our favorite things to include in our burger bar are:
Download your FREE PRINTABLE shopping list here
Of course a delicious drink is necessary to wash down those burgers. Keep that simple too. How about strawberry lemonade? It's perfect to quench your thirst when you are entertaining in the summer.
What would you add to our Build Your Own Burger Bar?
MORE VEGETARIAN RECIPES FROM MOMTRENDS
PIN IT!
Use Pinterest to save your favorite recipes. Be sure to follow our Recipes to Inspire board.
This is not a sponsored post. All opinions are our own.