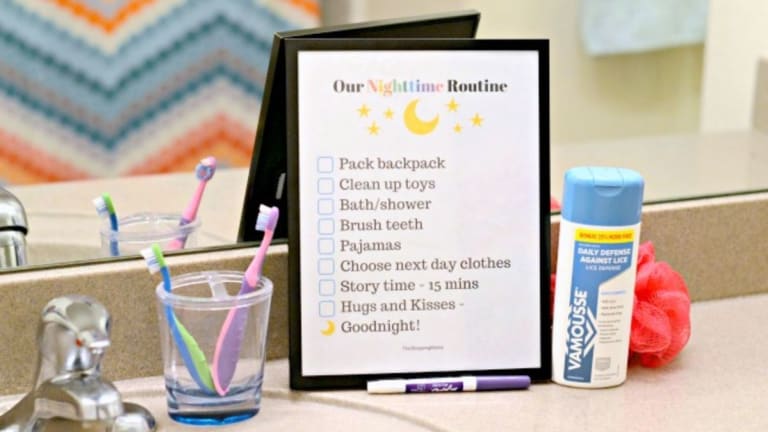 Back-To-School Nighttime Routine with FREE Printable
Having an easy-to-follow nighttime routine helps the night flow smoother so that everyone can get their rest.
Summer is over and we're gearing up for the back-to-school season. We've bought the book bags, shopped for a new wardrobe, and stocked up on the long list of school supplies. One fun addition is this FREE printable for a Back-To-School nighttime routine.
Why You Need a Routine
This summer, we've been a little more lax with our routine. That was okay for a while, but now that school is starting back we need to get back into a good routine. If there's one thing I've learned, it is that when I have a good nighttime routine in place, the school year flows much better. Let's be honest, by bedtime everyone is exhausted. Having an easy-to-follow nighttime routine helps the night flow smoother so that everyone can get their rest.
Create a Nighttime Routine
I'm not the most organized person but I try my best. I discovered if I'm organized at night, then I'm less stressed and bound to have a better morning too. I created a printable nighttime routine to help my daughter feel more responsible during our evenings. Also, I don't have to repeat myself as much which is a win for me.
We printed out our nighttime routine and have it hanging in a cheap frame in the bathroom. Then, my daughter can use a dry erase marker to mark off what she's done in the nighttime routine.
Add Vamousse to your Daily Routine
Nothing throws off a good routine like having the kids come home from school with lice. Most symptoms of a lice infestation show up 2 weeks after the contact has occurred and by this time the lice may be spreading through your household. This year we've started including Vamousse Lice Defense into our nighttime routine for our whole family. Using Vamousse in place of our regular shampoo is a gentle way to defend against a lice infestation.
Switching to Vamousse in our daily routine was easy for me. Vamousse Lice Defense is safe for children 2 and older, so even my youngest can use the shampoo. I don't have time, nor do I want to deal with lice, so for me this switch was easy.
But, if we do encounter lice this year, I take comfort in knowing that I can use Vamousse Lice Treatment. It's effective against the pesticide resistant super-lice (shudder). Vamousse Lice Treatment gets rid of lice quickly with just one treatment (and without pesticides) so we can get back to having a good year!
This post is sponsored by Vamousse. All text and opinions are our own.