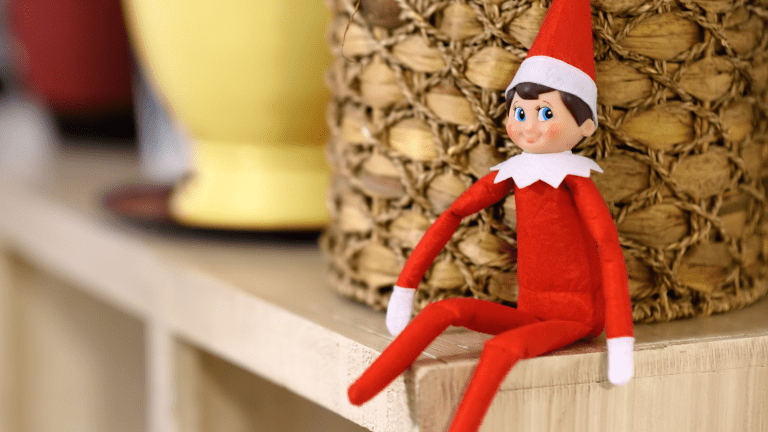 20 Quick and Easy Elf on the Shelf Ideas for Busy Moms
Simple ideas for your elf that can be created in under 5 minutes
Kids love the traditions of Christmas, but we know it can be tough to be into the holiday spirit 24/7. So, I'm sharing my 20 quick and easy Elf on the Shelf ideas for busy moms.
We've had our family Elf, Lola, for a couple years now. I love the idea of the Elf on the Shelf. We use it to add some extra fun to our holiday season. Our Elf is pretty mild mannered and doesn't naughty things. Sometimes, she brings us things like a gingerbread house kit or box of hot cocoa, something we can enjoy together as a family. I've seen some crazy photos of elves that wrap the entire toilet in wrapping paper or zip line through the house on and I respect those moms, but I'm too busy (and tired), especially this time of year, to spend an hour after the kids are in bed setting up mischief. 

We keep our elf antics pretty simple, yet cute, and it's all fun and nice until you are in bed about to fall asleep and suddenly you remember that darn elf! You need something quick and easy to do. Under 5 minutes quick! Hopefully some of these quick and easy elf on the shelf ideas can come in handy this year (or next!) Read now, or pin for later, and share your elf photos with us on social media!
Get your elf on Amazon here (note, this is an Amazon Affiliate link)
20 Easy Elf on the Shelf Ideas
Have your elf sticking out of a stocking with a measuring tape, to see how many goodies Santa can fit in there.
Cotton ball "bubble bath" in the sink.
Hang some candy canes on the tree. Have the Elf be sitting by the remaining candy canes in the box for the kids to finish decorating.
Prop a half eaten Christmas cookie in your elf's lap.
Have a Christmas movie playing in the morning with the Elf watching it. (Only works if you wake up before your kids)
Elf stole the barbie car or truck etc and took it for a spin.
Let your Elf get artistic and remind your kids how many days until Christmas.
Elf brings a North Pole breakfast (we like rainbow marshmallow hot cocoa and mini doughnuts)
Stick bows all over your Elf from your wrapping paper stash.
Sometimes your Elf can get into the candy. Ours spelled out her name. Make a smiley face!
Find Elf reading a Christmas book.
Nestle your Elf in your advent/countdown calendar.
Have your Elf playing with a toy or putting together a puzzle.
Hide your Elf in a shoe, or coat pocket.
Have your Elf help pack lunch: candy and sweets. You will have to do some repacking of course.
Elf can write an encouraging note on the mirror with lipstick
Draw a smiley face on a piece of fruit and sit Elf in the fruit bowl.
Have your Elf bring Christmas jammies for the family or Christmas stockings/socks.
Circle Christmas day on the calendar
Cut a few paper snowflakes out and pose them with scissors and the elf. (Ok so this one actually takes more work but kids love it! Make it more simple by cutting one snowflake and leaving a stack of paper for kids to make their own snowflakes!)

For more Elf on the Shelf fun you can get your Elf a pet. We have the reindeer pet but they also offer a Saint Bernard pet for your Elf. Also check out the Elves at Play book for even more tips and tricks to inspired your elf mischief.
MORE HOLIDAYS FROM MOMTRENDS
PIN IT!
Use Pinterest to save your favorite gift ideas. Be sure to follow our Holiday Recipes and Crafts board here.
This is not a sponsored post. This post may contain affiliate links.