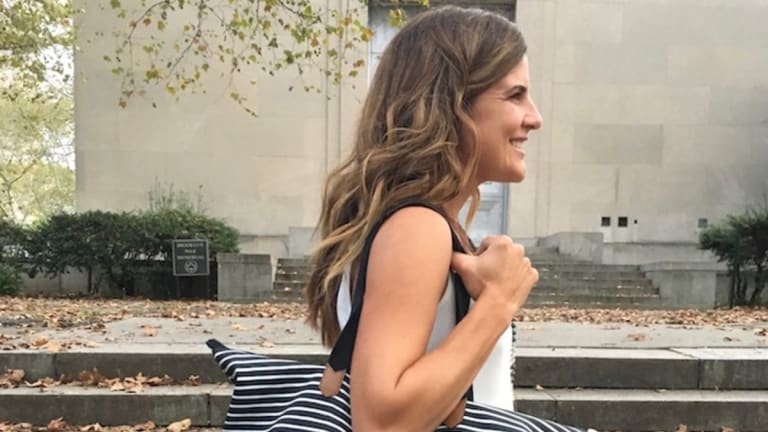 What to Wear on a Warm Fall Day
What to Wear on a Warm Fall Day: Ideas on what to wear when the weather is fickle and you have clothes for fall but summer goes on.
If you live on the East Coast, you might have an unusual dilemma. The weather is stuck in summer and I am trying to have my wardrobe look like fall. Today the answer to: What to wear on a warm fall day, since we are all about outfit solutions her at Momtrends.
Related: Fall fashions from a new designer who knows how moms dress
You know by now that I don't believe in shopping my way out of a problem. I look at weather situations as a challenge to put new things together that I already own. I started with these fun lightweight wool pants from Colovos. They are swingy and the perfect pant to anchor this outfit. My motto: start by shopping my closet.
This outfit needed to be chic and, as always, take me from mom time to work time. I was heading to the Bloglovin Collab, a chance to see what the youngsters of the social media world are up to. I've been in this game a long time (10 years, let's hear it for being a Mom Boss!). I try to stay grounded by my community, listening to moms and giving them more of what they want. At the same time, I want to see what's next, so I go to these things to stay up to speed.
Now that I'm in my 40s, my outfits are inspired, not by trends, but by what I love. That means pairing pants with a white cabi top I've had for a few years. I layered on a tassel necklace and some great sandals and off I went.
The only new piece was this black and cream stripe tote. The Daytripper tote! is perfect for every day. This was gifted by Stella & Dot and it's a perfect carry-all for my epic days. I wish I could survive with a small little bag, but I need my gear to keep things going.
Are you enjoying the ongoing summer? I sure am. Let me know what you are wearing!
MORE FASHION TIPS FOR MOMS
PIN IT!
Use Pinterest to save your favorite fashion posts. Be sure to follow our Fall Fashion Trends Pinterest board here.
Momtrends was not paid for this What to Wear Warm Fall Day post.