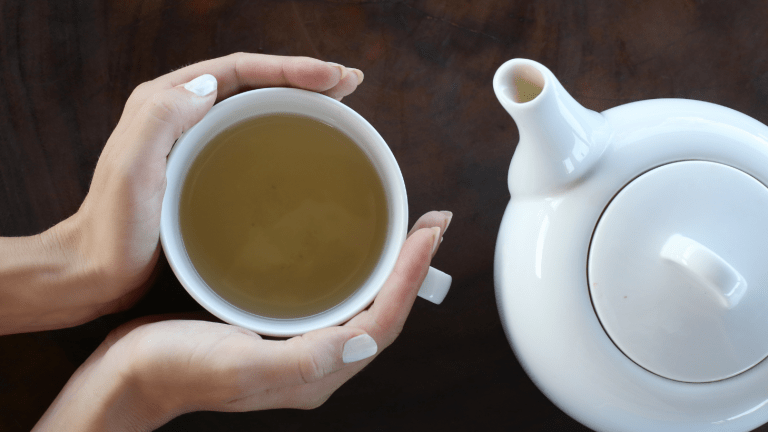 February's fashion features are all about things I love. I'm combining fashion and food and my city. Today I'm talking about having a stylish tea time in New York. If you didn't know it already, I am a huge tea lover. I sip tea all day long. I have a few favorite brands, but I'm always on the hunt for new flavors and new spots to discover.
Stylish Tea Time at Harney Tea Soho
This month I'm inviting you along to the Harney Tea Salon in Soho. For the outing, I'm wearing a few things I love. Remember the theme of the year is wearing what you love? 
Here's a closer shot of the sweater. It's got bold stripes and a Kelly green tie at the neck. It's a nice mix of girly and sporty and can be paired with a pencil skirt or a pair of jeans.
The bag is from Longchamp called the 'Le Pliage' tote—I have had it for years and it's the perfect weight and size for walking around NYC and doing a bit of shopping. It's light and so very packable.
Exploring Cities Via Tea
When I travel, I love popping into food shops. I find eating and drinking my way through cities like Paris and London help me get connected to the culture. In London, you simply can't miss tea time. NYC certainly has a few spots for fancy tea times. this is a bit more relaxed. It's not about loading up on sweets and treats, it's about sipping something marvelous.

Five Tips for the Perfect Pumpkin Patch Visit
It's that time of the year again...pumpkin patch time! While I love a nice Pumpkin Spice Latte as much as the next fall lovin' girl...for me, the season is all about spending time with my family...and hopefully that time is spent outside as much as possible. If you're headed out ...read more
Perfect for Fall Pumpkin Spice Dirt Bomb Recipe
Get your pumpkin spice fix with this tasty dirt bomb recipe. Unlike fried donuts, this recipe is a little lighter and, since no hot oil is involved, a lot less messy. These dirt bombs, or baked donuts, are irresistible cakey muffins that are spiked with nutmeg and ginger, and ...read more
Save Money at a Ski Swap
Are the slopes in your future? If you want to save money on ski gear, consider a ski swap. A swap is a great way to buy and sell used equipment. Most swaps consist of a variety of gear, from brand new to used skis and snowboards to skis; from poles to boots to bindings and ...read more
Harney & Sons Tea has been around for more than 30 years. The brand started in Salisbury, Connecticut, and that's where I discovered it the first time. The company remains family owned and operated, but the reach of the tea has really grown in the 10 years I've know them. You'll get a good sense of what the brand is all about when you visit the Harney & Sons spot in Soho.
When you pop into the tasting bar and lounge be sure to talk to the knowledgeable staff. They will set you up with a sample or two or three. With 250 varieties of tea to pick from, be sure you give yourself enough time to enjoy the process.
I tried some delicious Ceylon tea and learned that I have been using too-hot water to steep my white teas. I am sure you will pick up some insider knowledge too. This place is a treasure trove of teas and also a great spot to pick up gifts for your tea-loving friends.
Plan your visit to Harney Tea

433 Broome St, New York, NY 10013
Phone: (212) 933-4853
https://www.harney.com/pages/the-soho-shop
Other NYC ideas for foodie fun for Two Hands Soho
Photos by Marcus Stukes www.marcusstukes.com follow him on Instagram @Silverscreen_productions. This is not a sponsored post.