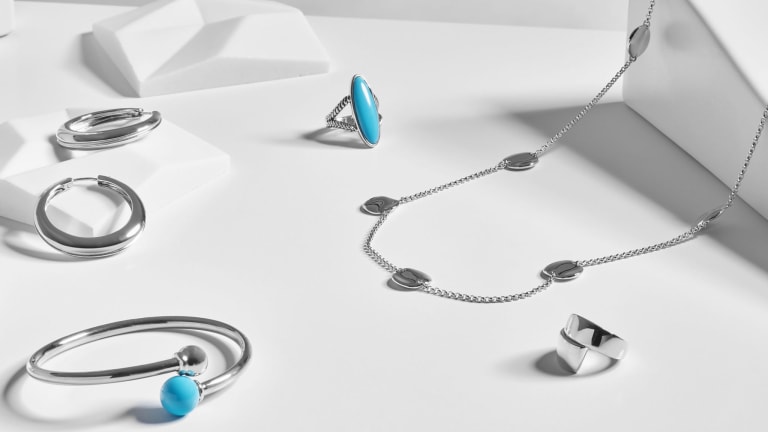 Styling Sterling Nambé Jewelry
Nambé brings its celebrated design heritage to women's jewelry
Sterling silver is so trendy right now. I admit my rose gold love is still strong, but I love what's going on with the hottest trend–silver! Nambé Jewelry is a big part of what's new and fresh. A few weeks ago, they launched a new line of silver jewelry that is available exclusively at Macy's (read more about it here). I was one of the first to get to see the collection, now the really fun part, styling the collection.
Do you know Nambé already? Probably you do. For the past 65 years the brand has been a global leader in home design products. Nambé is exceptional at identifying designers to collaborate on products that bring function and style into the home.
The jewelry line is no different. For this one, Nambé teamed up with Carolyn Pollack. She brings a western flair and spirit to all her work. This Nambé Jewelry is just stunning. And modern. And so wearable. It reminds me of pieces I would see curated at Ralph Lauren when I was working there.
Why silver? I want a little sparkle every day, sterling's brightness and functionality are a perfect match for my busy and full life. I try not to leave the house without at least one fun accessory on. Sterling silver is an easy thing to slip on and feel pulled together.
When you head to one of Macy's 400 stores (or online at Macys.com) you'll see an assortment of necklaces, bracelets, rings and earrings. I'm showing just two of my favorite pieces, there are dozens and dozens more. The collection ranges in price from $95 – $550 making it an affordable treat or a great gift.
I also love that the pieces are all made in America by skilled artisans. Each piece of jewelry is a unique work of 925 Sterling Silver with a Rhodium plated for a tarnish-resistant finish.
My Nambé Multi-Band Ring is right on trend. It looks like a stackable ring, but without the hassle and fussiness of actually stacking rings. Some of the other Nambé rings in this collection have semi-precious stones, such as Smokey Quartz and Mother of Pearl.
The Nambé Infinity Pendant Necklace I picked hangs on a black leather cord. Wear it long or loop it around twice as a choker. It's a great piece to travel with – it's incredibly versatile and can make a simple outfit like this one pop.
Nambé Jewelry Styling Tips
Let the jewelry standout. I went with a mostly wine colored outfit with a bit of cream. I thought the black cord on the necklace really contrasted well against the blouse.
Pick a focus. Since I wanted people to notice the new jewelry, I kept everything else clean--the outfit is print-free and pretty basic.
Want to see it in person? Macy's is Nambé's exclusive retail partner in the US for the jewelry collection's launch or you can head to nambe.com and Nambé stores to try some pieces on.
This is a sponsored post.